As the year comes to an end, I always get a good chuckle from seeing Ireland's Most Popular Google Searches. Each year they reflect not only what the majority of people in Ireland were Googling but also what you wouldn't expect people to Googling. I included the latest data from Google's year in search.
These are specifically from Ireland. Although I think I was definitely guilty of Googling at least half this list in 2022, haha. Also, I never took the jump on this Wordle craze, but it seems to have taken over Ireland!
Let's start with the "What is" from Ireland's Most Popular Google Searches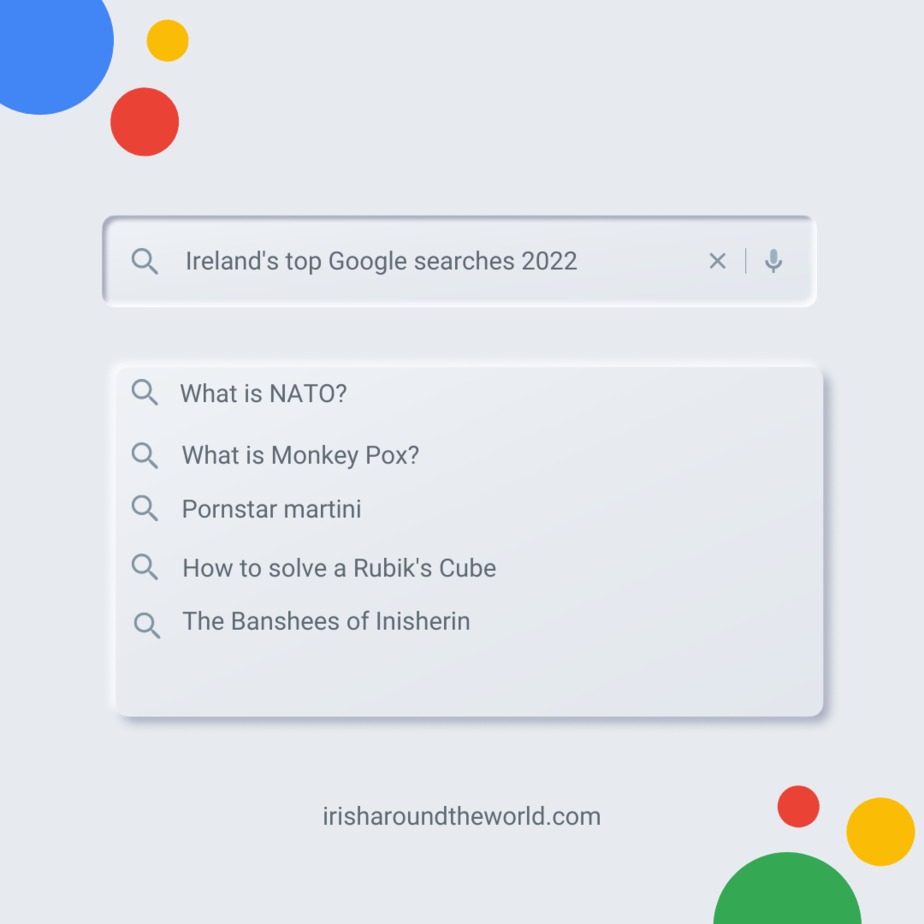 Most Popular Google Searches: What is
What is NATO?
What is Monkey Pox?
What is Wordle?
What is an Oligarch?
What is an NFT?
What is Aphasia?
What is Hepatitis?
What is the population of Ukraine?
What is Salmonella?
What is the Met Gala?
Most Popular Google Searches: Overall Searches
Wordle
Ukraine
Queen Elizabeth
Aisling Murphy
World Cup
Heardle
Dahmer
Johnny Depp
Russia
Anne Heche
Most Popular Google Searches: Recipes
Pornstar martini
Mushroom soup
Spaghetti bolognese
Overnight oats
Tomato soup
Baked oats
Chicken breast
Beef bourguignon
Chocolate brownie
Raspberry jam
Most Popular Google Searches: How To
How to get a Covid cert
How to book PCR
How to play Wordle
How to do antigen
How to solve a Rubik's Cube
How to tie a tie
How to unblock your nose
How to spell askew
How to help Ukraine
How to apply for fuel allowance online
Most Popular Google Searches: Movies
The Batman
Uncharted
Thor Love & Thunder
Top Gun
The Banshees of Inisherin
Encanto
Black Adam
The Lost Daughter
Don't Worry Darling
The Good Nurse
Well, that is an exciting list of Google searches in Ireland.
I almost feel like I am reliving the year 2022 just by reading the top 10s. Was there any in the list that surprised you? Comment below. I still haven't taken the plunge to buy a Rubix cube, haha, but I have seen 95% of the top 10 movies list. I particularly enjoyed The Banshees of Inisherin.
If you enjoyed this and loved all things Irish, then subscribe to my weekly dose of Irish, where I send out an email every Friday with Irish jokes, music and more!