At over 2500km long and with so much to see it's impossible to take in the

Wild

Atlantic

Way

in one visit.
So rather than singling out specific locations on the Wild Atlantic Way we have compiled a list that every visitor to the Wild Atlantic Way should seek out.
For more information about the Wild Atlantic Way, check out this guidebook Exploring Ireland's Wild Atlantic Way.
1 Climb an Iconic Mountain
A large portion of the Atlantic coast is mountainous and while modest by international standards.
Many of the mountains rise directly from sea-level, offering a tough challenge to hikers.
Some of them have been sites of pilgrimage for millennia, and though the motives for going to these sacred summits may be different in this day and age.
There are plenty of reasons to keep the tradition alive.
Some of the mountains are outside the scope of the casual hiker due to steep, difficult ground but they will be of great interest to experienced walkers with good navigation skills.
Others have well-worn paths to the summit and should be within most people's ability in all but the worst weather.
If you pick your day well the summit views will be well worth the effort. Here is a list of suggestions to climb on the Wild Atlantic Way:
Brandon Mountain, Kerry
Diamond Hill, Galway
Croagh Patrick, Mayo
Knocknarea, Sligo
Slieve League, Donegal
Errigal, Donegal
2 Visit an Island while on the Wild Atlantic Way:
A visit to most of the Irish islands is like a trip back in time.
That's not to say that the islands are backwards places.
Almost all enjoy the conveniences of the contemporary world but they have retained a relaxed pace of living that most other places have exchanged for the rush of modernity.
Many of the islands are strongholds of the Irish language.
Visitors are just as likely to hear people speaking Gaeilge as they are English in places like Cape Clear, the Aran Islands and Tory Island.
They generally have vibrant traditional music scenes, and folklore is better remembered in these places than most others.
Most of the islands are dependent on tourism more than any other industry.
So there are plenty of facilities on the most popular islands, and visitors can enjoy the feeling of being somewhere truly different without forgoing some creature comforts.
And for the hardier amongst us, there are plenty of islands with little or no facilities that are truly great places to get away from the rest of the world.
No matter which island you visit be sure to spend the night. When the day-trippers have all gone you'll get a real sense of the way life is lived on these remote Atlantic outposts.
This is a must while you are travelling on the Wild Atlantic Way.
3 An epic night in an Irish pub
Ireland is rightly famous for its pubs. Even in the smallest
Even in the smallest communities, you can often find two or three different bars and they are the focal point of every town or village.
It's very possible that some visitors will spend every night in a pub.
Chatting to locals and listening to traditional Irish music.
Or just sitting beside the fire enjoying a meal or a nice pint of Guinness.
Whether you want to experience the buzz of a crowded bar or enjoy a drink in a quiet corner you will have plenty of choices.
After a day outdoors there is no better way to wind down in the evening, and no better place to meet people.
In recent years the standard of food offered in pubs has improved significantly so they aren't just for nighttime visits.
Some places are better than others for music but it's pretty easy to find live music in the summertime.
4 Walk the coast and experience how wild the atlantic can be:
You will never be far from the coast in Ireland, and the variety of seaside landscapes is one of the country's major attractions.
Some places have huge cliffs and rocky headlands while other areas are fringed by vast sandy beaches.
A walk along the coast is the best way to see these sights at close quarters, as well as a whole lot more.
There are secret sheltered coves that are perfect for a swim. Marine wildlife could appear at any moment.
There are sea caves, arches and all sorts of impressive natural architecture. And there is the sea itself, and all its moods.
No doubt these places are great on sunny days, but the coast is worth a visit at any time of year.
You'll have a renewed appreciation for the roof over your head after a walk in some wild, wet weather. And on a fine
And on a fine evening, there is no better place to watch the sun go down than along the west coast of Ireland.
5 Push Your Comfort Zone
Ireland's reputation as a destination for outdoor activities is growing fast. With a great diversity of terrain Ireland is the ideal place to try a new activity.
Water sports such as surfing, kayaking and paddleboarding offer a unique perspective on the coastline.
While land-based activities such as mountain biking, rock climbing and caving allow you to visit places you might never get to see otherwise.
All photos by Richard Creagh www.richardcreagh.com
What to get before your trip on the Wild Atlantic way?
Hope this article has given you a brief insight into what you can do on the Wild Atlantic Way. We will be covering this in much more detail over the coming weeks so be sure to subscribe.
Exploring Ireland's Wild Atlantic Way is essential reading for anyone planning to visit the Atlantic coast of Ireland.
Whether looking for ideas for weekend adventures or visiting from abroad, you will find everything you need within this guide.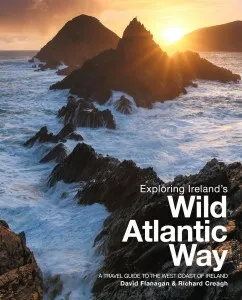 The book's focus is on the outdoors – on getting out into the fresh air, the wind, the sun and the rain – and experiencing the incredible natural beauty found everywhere along the coast.Buy it now for only €22.50 including postage worldwide.
Don't forget to share this with someone you want to do the Wild Atlantic Way with.