I have been on a bit of an Irish poems streak so to speak in recent weeks. It started with a lovely 200-year-old Irish poem that many of you enjoyed and then followed up with my list of the top 10 Irish poems.
While many of you enjoyed the top 10 Irish poems I did get a lot of requests for more.
So with thanks to the Irish Times, I have this even better list of Ireland's top 100 Irish poems!
I plan to include a random Irish poem from this list every week on my weekly dose of Irish. Additionally, it will be published weekly as an article. So in 100 weeks time, you will have hopefully read every one of these Irish poems.
I will also be reading these poems with you. And I look forward to taking the journey.
Some you will love and some you will not. One thing is for sure it is an extremely diverse list of Irish poets speaking about many topics in the Irish poems.
Be sure to comment below if you have any favourite Irish poems.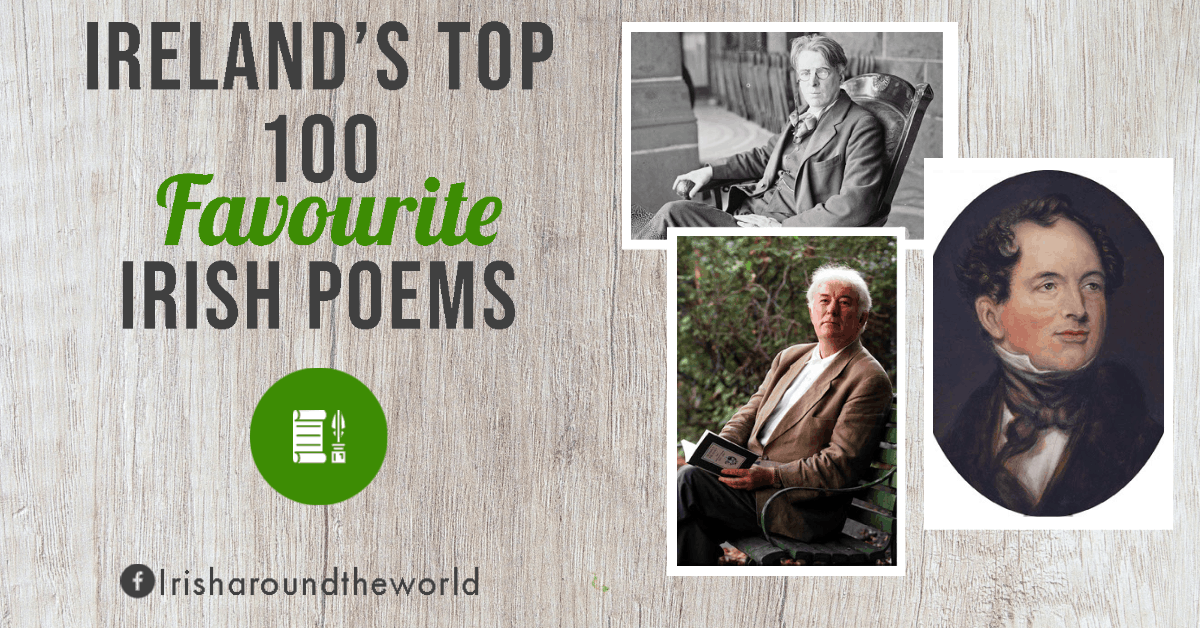 As the weeks go by please come back to this list and see Irish poems I have added.
You can of course also subscribe to my free weekly dose of Irish where I can send it straight to your inbox. Join here.
Ireland's Top 100 Favourite Irish Poems
The Lake Isle of Innisfree, by W. B. Yeats
He Wishes for the Cloths of Heaven, by W. B. Yeats
The Song of Wandering Aengus, by W. B. Yeats
On Raglan Road, by Patrick Kavanagh
Easter, 1916, by W. B. Yeats
Canal Bank Walk, by Patrick Kavanagh
Stony Grey Soil, by Patrick Kavanagh
An Old Woman of the Roads, by Padraic Colum
Sailing to Byzantium, by W. B. Yeats
The Wild Swans at Coole, by W. B. Yeats
The Deserted Village, by Oliver Goldsmith
The Ballad of Reading Gaol, by Oscar Wilde
September 1913, by W. B. Yeats
Digging, by Seamus Heaney
The Wayfarer, by Padraic Pearse
Advent, by Patrick Kavanagh
I See His Blood upon the Rose, by Joseph Mary Plunkett
Thomas McDonagh, by Francis Ledwidge
The Mother, by Padraic Pearse
The Planter's Daughter, by Austin Clarke
Caoineadh Á i Laoghaire, by Eibhlin Dubh Ni Chonaill
Among Schoolchildren, by W. B. Yeats
The Second Coming, by W. B. Yeats
Inniskeen Road, July Evening, by Patrick Kavanagh
Lines Written on a Seat on the Grand Canal, Dublin, `Erected to the Memory of Mrs Dermot O'Brien', by Patrick Kavanagh
An Irish Airman Foresees his Death, by W. B. Yeats
Clearances, by Seamus Heaney
Another September, by Thomas Kinsella
The Lost Heifer, by Austin Clarke
A Disused Shed in Co Wexford, by Derek Mahon
June, by Francis Ledwidge
Snow, by Louis MacNeice
Personal Helicon, by Seamus Heaney
Mise Raifteiri an File, by Antoine Ó Raifteiri
Cuirt a Mhean, by Brian Merriman
Cill Chais, by Aodhagán Ó Rathaille(A poem in Irish)
The Fiddler of Dooney, by W. B. Yeats
The Blackbird of Derrycairn, by Austin Clarke
Blackberry-Picking, by Seamus Heaney
Spraying the Potatoes, by Patrick Kavanagh
A Pint of Plain is Your Only Man, by Flann O'Brien
Anois Teacht an Earraigh, by Antoine Ó Raifteiri
The Circus Animals' Desertion, by W. B. Yeats
Ecce Puer, by James Joyce
Incantata, by Paul Muldoon
To a Child Dancing in the Wind, by W. B. Yeats
The Tower, by W. B. Yeats
Night Feed, by Eavan Boland
She Moved Through the Fair, by Padraic Colum
Death of a Naturalist, by Seamus Heaney
Requiem for the Croppies, by Seamus Heaney
Autumn Journal, by Louis MacNeice
Dublin, by Louis MacNeice
Dark Rosaleen, by James Clarence Mangan
The Meeting of the Waters, by Thomas Moore
Bean Sleibhe ag Caoineadh a Mhac, by Padraig Mac Piarais
The Ballad of Father Gilligan, by W. B. Yeats
Red Hanrahan's Song about Ireland, by W. B. Yeats
Pangur Ban, Anonymous
Follower, by Seamus Heaney
To My Darling Daughter Betty, by Tom Kettle
The Fool, by Padraic Pearse
The Splendour of God, by Joseph Mary Plunkett
Sheep and Lambs, by Katharine Tynan
Broken Dreams, by W. B. Yeats
Down by the Sally Gardens, by W. B. Yeats
Under Ben Bulben, by W. B. Yeats
Valparaiso, by Padraig de Brun
Woodman, Patrick Deeley
Christmas Day, Paul Durcan
Going Home to Mayo, by Paul Durcan
Death of an Irishwoman, by Michael Hartnett
Postscript, by Seamus Heaney
Station Island, by Seamus Heaney
Father and Son, by F.R. Higgins
For Rita With Love, by Pat Ingoldsby
Pegasus, by Patrick Kavanagh
An Bonnan Bui, by Cathal Bui Mac Giolla Ghunna
'Tis the last rose of summer, by Thomas Moore
An tEarrach Thiar, by Mairtin Ó Direain
Oiche Nollag na mBan, by Sean Ó Riordain
Mise Éire, by Padraig Mac Piarais
Leda and the Swan, by W. B. Yeats
A Prayer for my Daughter, by W. B. Yeats
All Legendary Obstacles, by John Montague
You can also Pin this image if you are using Pinterest below: