There is no shortage of Irish jokes on this site, I have a whole category dedicated to it here. Everything from St Patrick's day one-liners to more Irish jokes.
I have seen a lot of longer form Irish jokes online which were a good 10+ years old. So old in fact that you can barely read the image properly!
This is likely due to it being shared, saved and reshared 1000's of times on Facebook.
But don't worry I have gone through hundreds of longer-form Irish jokes and made some lovely images in which you can share to Facebook or directly to Pinterest.
These are mainly related to those cheesy Irishman, Englishman and Scotsman jokes but there will be some others mixed in.
Before we get to the jokes be sure to join my Irish jokes Facebook group here for plenty more longer Irish jokes.
5 Longer Irish Jokes – Irish joke of the day
Irish joke 1: The cup of tea survey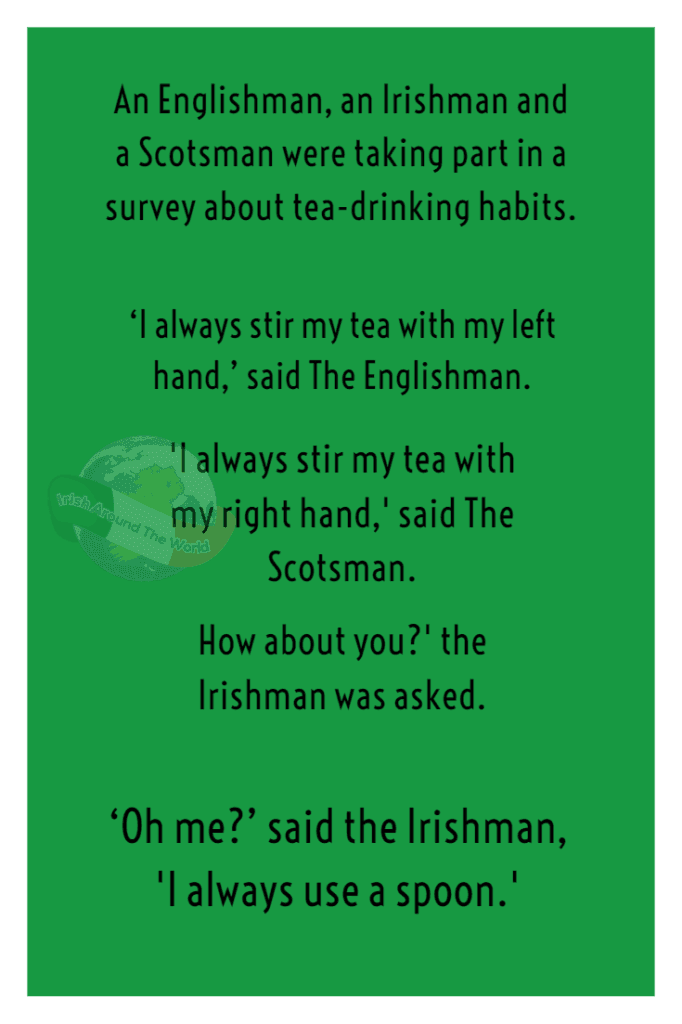 Text version of the Irish joke:
An Englishman, an Irishman and a Scotsman were taking part in a survey about tea-drinking habits.
'I always stir my tea with my left hand,' said The Englishman.
'I always stir my tea with my right hand,' said The Scotsman.
How about you?' the Irishman was asked.
'Oh me?' said the Irishman, 'I always use a spoon.'
Irish joke 2: Which is the best bar to drink in?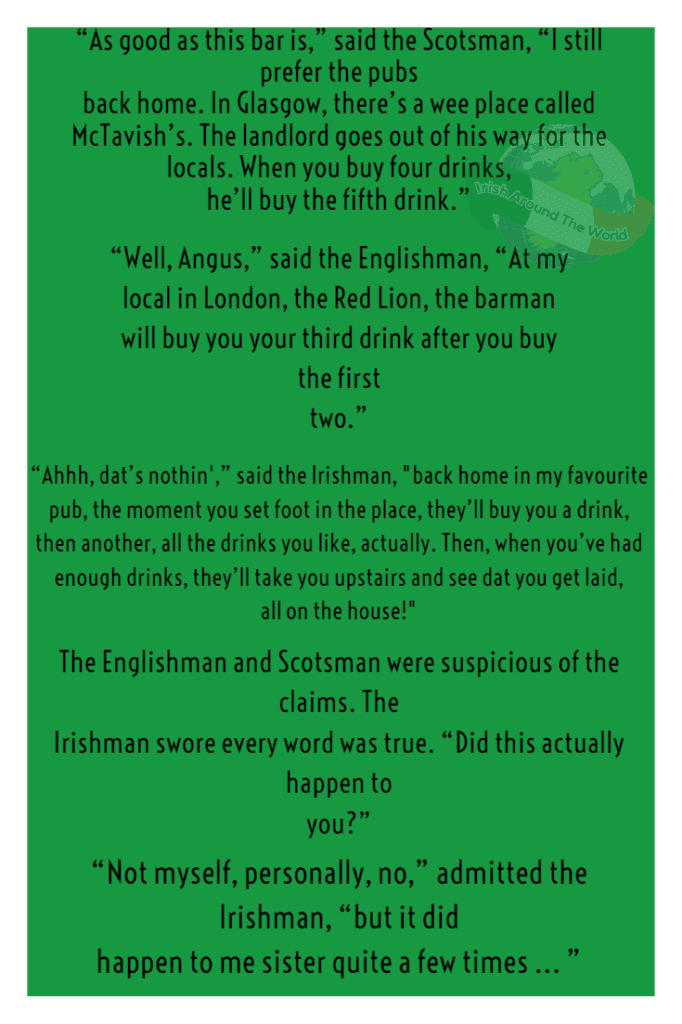 Text version of the Irish joke:
"As good as this bar is," said the Scotsman, "I still prefer the pubs back home. In Glasgow, there's a wee place called McTavish's.
The landlord goes out of his way for the locals. When you buy four drinks, he'll buy the fifth drink."
"Well, Angus," said the Englishman, "At my local in London, the Red Lion, the barman will buy you your third drink after you buy the first two."
"Ahhh, dat's nothin'," said the Irishman, "back home in my favourite pub, the moment you set foot in the place, they'll buy you a drink, then another, all the drinks you like, actually.
Then, when you've had enough drinks, they'll take you upstairs and see dat you get laid, all on the house!"
The Englishman and Scotsman were suspicious of the claims. The Irishman swore every word was true. "Did this actually happen to you?"
"Not myself, personally, no," admitted the Irishman, "but it did happen to me sister quite a few times … "
Irish joke 3: The 1-year prison sentence
An Irishman, a Scotsman and an Englishman are each sentenced to a year in solitary confinement; before being locked away, each is to be granted a year's supply of whatever he wants to help him get through the long, long spell alone.
The Scotsman asks for a year's supply of scotch; it's given to him and he's locked away.
The Irishman asks for a year's supply of cigarettes so he's locked up with several thousand cigarettes.
The Englishman asks for a year's supply of pornography and he's given a giant pile of dirty magazines and the cell door is shut on him.
One year later, the doors are all unlocked.
The Scotsman staggers out and shouts, 'I'm free!' and then keels over dead from alcohol poisoning.
The Englishman is dragged out into the light, whereupon he promptly dies of muscle overuse failure.
When the door to the Irishman's cell is opened, everybody watches eagerly to see what sort of a wreck the man has made of himself.
To their surprise, he walks right out the door, sidles up to the first person he sees, and asks, 'I say you wouldn't happen to have a light, would ya?'
Irish joke 4: Are you walking or driving to Cork?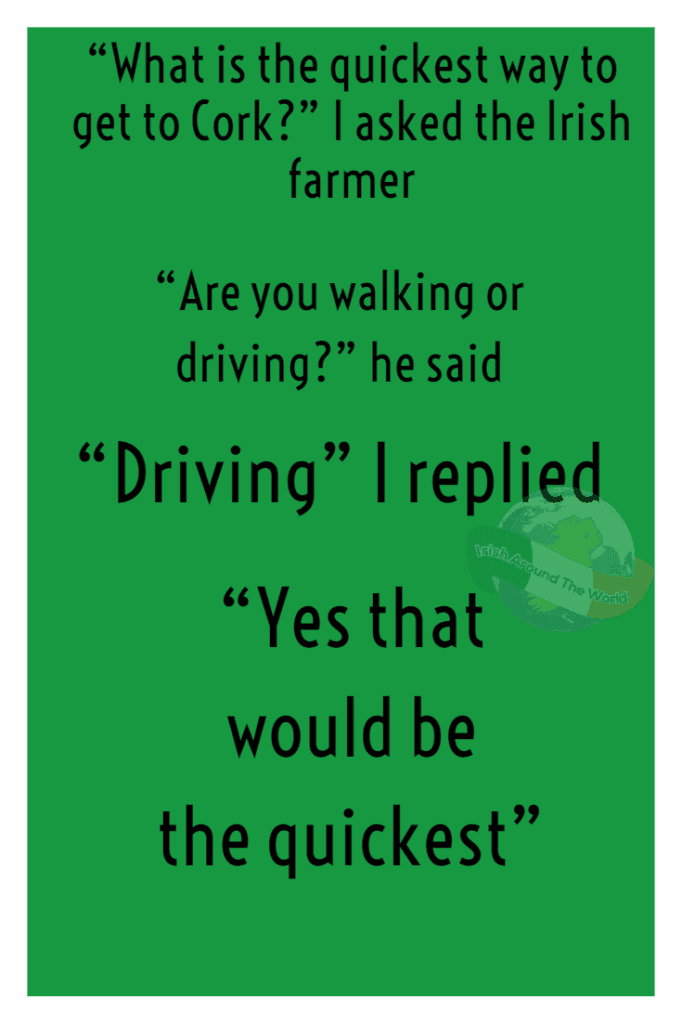 Longer Irish joke 5: "The Penis Surgery" from 30 Irish jokes
Paddy and Mick were having a few beers at the bar together recounting old times when the call of nature caused them to line up at the stainless steel, still deep in conversation.
But Paddy could hardly ignore the fact that Mick was very well endowed.
"I say, 'tis a remarkable dong you have there," Paddy was prompted to remark.
"Wasn't always that way," replied Mick. "Medical science can do wonders with transplants these days," he said.
"I got this done in Dublin. It costs me twenty thousand euros, but as you can see, well worth it."
Paddy was envious. In fact, he packed his bag that night and drove to Dublin.
It was a good six months later before he ran intoMick once again and he could hardly wait to tell him that he had taken his advice and was well pleased with the result.
"You were diddled. I got mine for ten thousand euros only" said Paddy.
Mick could hardly believe it. Same address in Dublin, same doctor.
Thinking that he had been ripped off, he asked Paddy if he could have a look.
Once more they lined up at the stainless steel and when Mick took a peek, the worried frown which had creased his face disappeared and he started laughing.
"Why are you laughing?"
"No wonder you got it at half price," Mick laughed. "That's my old one!"
Which of these longer Irish jokes is your favourite?
Remember if you did find any of this offensive I do apologize. They are just jokes and should only be seen as that.
If you did enjoy this post be sure to subscribe to my weekly dose of Irish to get more Irish jokes of the day straight to your inbox! Subscribe here.