St Patrick's day is only a few days away!
You may have noticed every year there has been more and more iconic monuments lighting up.
Well, it is all thanks to Tourism Ireland's Global Greening campaign.
This year marks the 10th year in the campaign and they have just added Victoria Falls, The Eden Project in Cornwall, York's medieval City Walls and The Cotton Tree in Sierra Leone.
I have also just finished this post on 17 incredible St Patrick's day facts.
Also if you are looking for some quality Irish music, you can listen to this playlist I created with over 4 hours of Irish music!
Niall Gibbons, CEO of Tourism Ireland, said:
This is the 10th year of Tourism Ireland's Global Greening initiative and each year I am delighted to see even more well-known attractions and landmark sites wishing to get involved and join our St Patrick's celebrations.

The success of our Global Greening initiative is due in no small part to the great work that has been carried out across the world by Irish people and the Diaspora.

I would particularly like to thank the Department of Foreign Affairs and Trade for the great support we receive from the Irish embassy network.

The eagerness of cities and countries everywhere to take part underlines the strength of the deep connection that people all over the world feel to Ireland.

More than 70 million people around the world claim links to the island of Ireland and St Patrick's Day is a truly unique opportunity to reconnect them with their heritage.

People across the world instantly identify St Patrick's Day with the island of Ireland and that heightened profile allows us to put the Ireland holiday experience in the spotlight – from Sydney to Singapore and from Rome to Rio de Janeiro.

Our St Patrick's programme will span Great Britain, Mainland Europe, North America, Australia, as well as emerging tourism markets such as China and the UAE.

There will be saturation coverage of the island of Ireland across the airwaves, in newspapers and digital media – and that's an invaluable boost at this time of year for our overall tourism marketing drive for 2019.
So what landmarks and iconic sites from around the world are going green in 2019 for St Patrick's Day?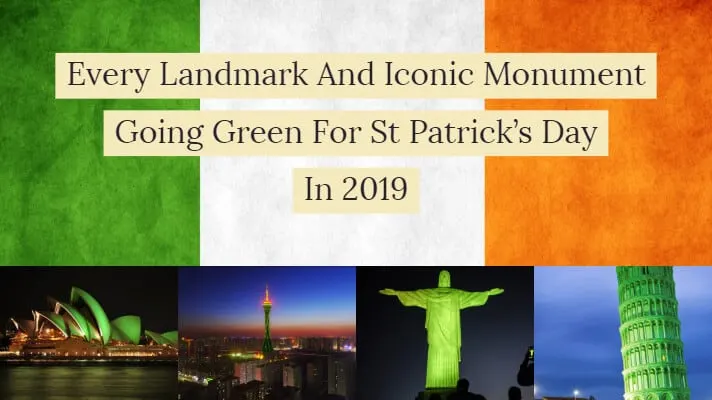 Brace yourself for a spectacular list, there is going to be a whole lot of green this St Patrick's day!!
Note: first-time St Patrick's day'greenings' marked *
Great Britain
• Cutty Sark, London *
• London Eye
• Tower 42, London
• Nelson's Column, London
• Trafalgar Square fountains, London
• Selfridges, London
• Selfridges, Birmingham
• Bamburgh Castle, Bamburgh *
• Bournemouth Pier *
• British Airways i360, Brighton *
• Eden Project, Cornwall *
• St Michael's Mount, Cornwall *
• National Space Centre, Leicester *
• Gateshead Millennium Bridge, Newcastle upon Tyne
• City Hall, Norwich *
• Emirates Spinnaker Tower, Portsmouth
• City Walls, York *
North America – St Patrick's day
United States
• Empire State Building, New York
• Atlanta City Hall *
• United Center, Chicago
• 'Welcome' sign, Las Vegas
• Metro Historic Courthouse, Nashville *
• Korean War Veterans Memorial Bridge, Nashville *
• Hillsborough River, Tampa
Canada
• Niagara Falls (on both the Canadian and US sides)
• Casa Loma, Toronto
• City Hall, Toronto
• The Distillery District, Toronto
• The Cariboo Sentinel (newspaper) shop, Barkerville *
• Calgary Tower, Calgary
• The Big Fiddle of the Ceilidh (Fidheal Mhor A' Ceilidh), Cape Breton Island
• Cochrane Polar Bear Habitat
• World's largest Muskoka chair, Gravenhurst *
• Canadian Museum of Nature, Ottawa
• Cabot Tower on Signal Hill, St John's, Newfoundland and Labrador
• The Wawa Goose
• Sail of Lights at Canada Place, Vancouver
Mainland Europe – St Patrick's day
Albania
• Clock Tower of Tirana *
Austria
• Burgtheater, Vienna
• Bridges on the Danube Canal, Vienna
• Wiener Riesenrad, Vienna
• Bergiselschanze (ski jump), Innsbruck
• SkiWelt Söll
Bulgaria
• National Palace of Culture (NDK), Sofia
• St Cyril and St Methodius University of Veliko Tarnovo, Veliko Tarnovo *
Belgium
• Grand Place, Brussels
• Anspach (shopping gallery), Brussels *
• Royal Galleries of St Hubert, Brussels
• Manneken Pis statue, Brussels ("dressed" in Irish costume)
• Burg, Bruges
• Celtic Cross, Fontenoy
• Maasmechelen Village, Genk
• Irish College, Leuven *
• Belfry, Mons
• Lille Gate, Ypres
Cyprus
• Town Hall, Nicosia
Denmark
• Bryggebroen bridge, Copenhagen
• Radisson Collection Royal Hotel, Copenhagen
Estonia
• Vabaduse Väljak (Freedom Square), Tallinn
• TV Tower, Tallinn *
Finland
• Polar Bear Pitching, Oulu *
France
• Beaugrenelle (shopping centre), Paris
• Centre Culturel Irlandais, Paris
• Château de la Muette (headquarters of the OECD), Paris
• Drugstore Publicis, Paris
• Galeries Lafayette, Paris
• Irish Embassy, Paris
• Pari Roller (street skating event), Paris *
• Sleeping Beauty castle at Disneyland Paris
• Hôtel de Ville, Athis Mons
• Mairie de Bayeux *
• Arkéa Arena, Bordeaux
• Porte de Bourgogne, Bordeaux
• Hôtel de Ville, Bressuire
• Centre d'art La Malmaison, Cannes
• Hôtel de Ville, Cannes
• La Croisette, Cannes
• Le Musée de la Castre, Cannes
• Le Suquet, Cannes
• Palais des Festivals et des Congrès, Cannes
• Pont Guilvinec-Treffiagat *
• Basilique Notre-Dame-de-Bon-Secours, Guingamp *
• Château de Pierre II, Guingamp *
• Badhus Kaysersberg *
• Église Sainte-Croix de Kaysersberg *
• Mairie de Kaysersberg *
• Pont Fortifié, Kayserberg *
• Château de Beaulieu, Saumur, Loire Valley *
• École primaire publique Pierre Jakez Hélias, Mellac *
• Église Saint-Pierre-aux-Liens, Mellac
• Hôtel de Ville, Mellac
• Aéroport Montpellier Méditerrannée
• Hôtel de Ville, Saint-Mandé
• Beatus Rhenanus bridge, Strasbourg (and on the German side of the bridge, in Kehl) *
• La Mairie, Villeurbanne
• 45 Le Comptoir Irlandais shops around France *
Germany
• Funkturm Berlin
• Reichsburg Cochem
• Excelsior Hotel Ernst, Cologne *
• Lanxess Arena, Cologne *
• Lighthouse, Düsseldorf
• Altes Rathaus, Gescher
• McKiernan's Irish Café, Gescher
• Stadthalle, Grafing *
• 'Fridolin' the carp statue, Höchstadt an der Aisch
• Offene Kirche St. Klara, Nürnberg
• Heidecksburg Castle, Rudolstadt
• Maria-Ward-Schule, Würzburg *
• Matthias-Grünewald-Gymnasium, Würzburg *
• Neumünster church, Würzburg
• Rathaus (Town Hall), Würzburg
Greece
• Museum of Cycladic Art, Athens *
Hungary
• Chain Bridge, Budapest
• Jedlik Ányos Bridge, Győr *
• Felszabadulási emlékmű (Liberty monument), Szombathely *
Italy
• Colosseum, Rome
• Irish Embassy, Rome
• Leaning Tower of Pisa
• Ex Convento Palazzo dell'Annunziata, Matera *
• Castel dell'Ovo, Naples *
• Castel Nuovo, Naples *
• Fortezza Albornoz, Orvieto *
• Il Pozzo di San Patrizio (St Patrick's Well), Orvieto
• Palazzo Municipale Orvieto *
Luxembourg
• Hôtel de Ville, Luxembourg city
Malta
• Porte des Bombes, Floriana
Monaco
• Prince's Palace of Monaco
The Netherlands
• Splendor Amsterdam
• Uilenburgersjoel, Amsterdam
• SkyView Scheveningen Pier, The Hague
• Windmill, Weert
Poland
• Palace of Culture and Science, Warsaw
• Hotel President, Bielsko-Biala
• Kosciuszki Street Bridge, Gdańsk
• Uczniowska Street Bridge, Gdańsk
• Centre of Culture and Art, Kalisz *
• City Hall, Kalisz
• Baszta Dorotka (Dorothy Tower), Kalisz *
• Spodek (arena), Katowice
• City Hall, Kielce *
• Galeria Echo (shopping centre), Kielce
• Regional Cultural Centre, Kielce *
• Father Bernatek (Kladka Bernatka) footbridge, Kraków
• Lipska Street flyover, Kraków
• Tauron Arena, Kraków
• Manufaktura, Łódź *
• OFF Piotrkowska (shopping mall), Łódź
• TME Office Centre, Łódź *
• Centre for the Meetings of Cultures, Lublin
• National Centre of Polish Song, Opole *
• Adam Mickiewicz University (main auditorium), Poznań *
• Archaeological Museum, Poznań
• Bishop Jordan Bridge, Poznań
• City Hall, Poznań
• MTP Spire, Poznań
• Poznań Główny (railway station), Poznań *
• Raczyński Library, Poznań
• Brama Przemyska Bridge, Przemyśl
• City Hall, Rzeszów
• Centennial Hall, Wrocław
• Grunwaldzki Bridge, Wrocław
• Krzesło Kantora (chair sculpture), Wrocław *
• Lower Silesian Governor's Office, Wrocław *
• National Museum, Wrocław
• Opera House, Wrocław
• Stadion Wrocław
• University Bridge, Wrocław
• University of Wrocław
• Wrocław Contemporary Museum, Wrocław *
• Wrocław Główny (railway station), Wrocław *
• Szyb Maciej, Zabrze
• City Hall, Zamość
Portugal
• Cristo Rei statue, Lisbon
• Museu Condes de Castro Guimarães, Cascais
• Castelo de Torres Vedras, Torres Vedras *
Serbia
• Ada Bridge (Most na Adi), Belgrade
• Palace Albanija, Belgrade
• Hotel Moskva, Belgrade
• Canadian Embassy, Belgrade
• Glavna Pošta (main post office), Belgrade
• House of the National Assembly of Serbia Narodna Skupstina, Belgrade
• Narodni Muzej (National Museum), Belgrade *
Slovak Republic
• Divadlo Aréna, Bratislava *
• Radisson Blu Carlton Hotel, Bratislava
• Chrenovský most (bridge), Nitra *
Slovenia
• Ljubljana Castle, Ljubljana
Spain
• San Mamés stadium, Bilbao
• Marbella arches
• Ayuntamiento, Tortosa
• Puente del Tortosa, Tortosa
Sweden
• Vasa warship, Stockholm
Switzerland
• The Rhine Falls, near Zurich
• Smilestones (indoor miniature world at The Rhine Falls), near Zurich *
Australia and New Zealand – St Patrick's day
Australia
• Sydney Opera House
• Town Hall, Sydney
• State Library of New South Wales, Sydney
• Irish Embassy, Canberra
• The National Carillon, Canberra
• The Big Kangaroo ('Rooey II'), Border Village
• The Big Banana, Coffs Harbour
• Perth Airport
• The Bell Tower, Perth
• Council House, Perth
• Crown Perth *
• Elizabeth Quay, Perth
• Matagarup Bridge, Perth *
• Optus Stadium, Perth
• Yagan Square, Perth
New Zealand
• Sky Tower, Auckland
• Auckland War Memorial Museum
• Eden Park, Auckland
• Christchurch Airport
Emerging Markets – St Patrick's day
Brazil
• Christ the Redeemer statue, Rio de Janeiro
• Teatro Amazonas, Manaus
China
• Canton Tower, Guangzhou
• 'Niki' Cathay Pacific DC-3 airplane, Hong Kong *
• Ruins of St Paul's, Macau
Colombia
• Barranquilla Cathedral, Barranquilla *
• Torre Colpatria, Bogotá
Ethiopia
• Bete Giyorgis (Church of Saint George), Lalibela *
Israel
• Sammy Ofer Stadium, Haifa
• Water Tower, Ramat Gan
• City Hall, Tel Aviv
Japan
• Shizuoka Stadium ECOPA, Fukuroi, Shizuoka Prefecture *
• Ise Ohtorii, Ise City
• Karakora Art Studio, Matsue
• Yokohama Marine Tower, Naka Ward, Yokohama
Kenya
• Leopard statue called 'Chiu' (made from re-cycled scrap metal), Nairobi *
Russia
• Central Telegraph Building, Moscow
• Izvestia Hall, Moscow
• Rossiya Theatre, Moscow *
Sierra Leone
• The Cotton Tree, Freetown *
Singapore
• Chijmes, Singapore *
Turkey
• Atakule Tower, Ankara *
Uganda
• Source of the Nile Bridge, Jinja *
United Arab Emirates
• Cascade Dining, Abu Dhabi *
• Nation Towers, Abu Dhabi *
• Yas Hotel, Abu Dhabi
• Burj Al Arab, Dubai
• Cayan Tower, Dubai
• Dubai Duty Free Tennis Stadium, Dubai
• Emirates Golf Club, Dubai
Vietnam
• Pen Monument, Hoan Kiem Lake, Hanoi
• Meliá Hanoi hotel, Hanoi
Zambia
• Victoria Falls *
So many incredible places added to the list, I can't wait to share these St Patrick's day pictures with you.
Be sure to follow me on Instagram for updates.
Enjoy St Patrick's day 2019!