No, you are not seeing things, this inflatable Irish pub is actually real!
Sometimes you just want to bring the bar to your home right?
I mean why have to travel to the bar when you can bring it to your backyard:
Visualise cold, properly poured pints of fresh Irish Stout, homemade Irish staples, such as Sheppard's Pie, Curry Fries and everyone's favourite Beef Stew.
The Paddywagon Inflatable Pub offers not just the local Irish Pub experience, it offers a welcomed and refreshing addition to sandwiches, domestic beers and wine.
Here is a short video of what you can expect:
This inflatable Irish pub is perfect for weddings and birthdays. It is basically an adult version of a bouncing castle.
The Inflatable Irish Pub Company currently rents and sells a few models, from the largest—70 person capacity structures called The Saloon and The Mac— to the smallest—The Matt Malloy and The Tavern which hold a more intimate 30 patrons.
They feature details like faux leaded glass windows, wood and stonework, tile roofs, personalized signage and even fireplaces.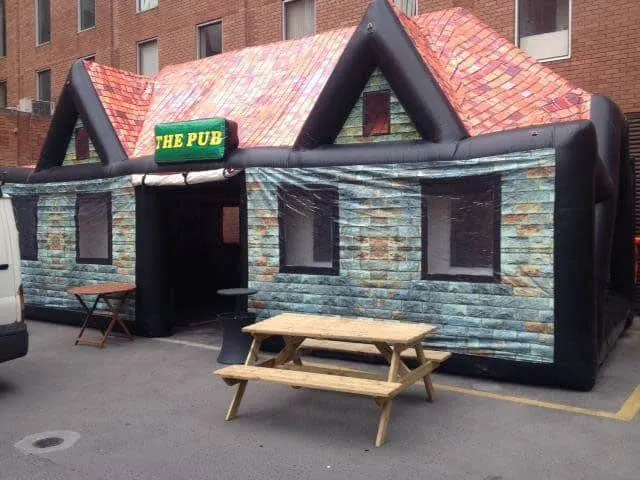 How much is the inflatable Irish pub?
The Paddywagon Inflatable Pub is fully insured with staff that are 'Servsafe' and 'Training for Intervention Procedures' (TIPS) Certified and seasoned in the time-honoured trade of the traditional Publican.
The Paddywagon is able to deliver an array of unique cultural offerings such as the traditional Irish music Session while relieving you of the worries and burden associated with organizing such events.
The prices range from $2500 to $6200 and orders take about 3-4 weeks to fulfil.
It really is a great niche idea and from the sounds of things, it will only get more popular in the coming months. What do you think about this inflatable Irish pub? Be sure to like, comment and share.