Now I know you have probably seen on news publications that the Irish accent is one of the sexiest accents in the world.
We all know it's true(wink wink), but often these studies or surveys are to only 100 – 1000 people.
Making them, in my opinion, terrible haha.
So what I liked about this survey(which only came out a few days ago) was it was asked by Big 7 Media to over 1.5 million readers!
Those readers were in over 60 countries as well which makes this survey pretty damn accurate.
I won't tell you where the Irish came but we did well, maybe it was the luck of the Irish haha.
Sources: Big 7 Media
Sexiest accents in the world 2019: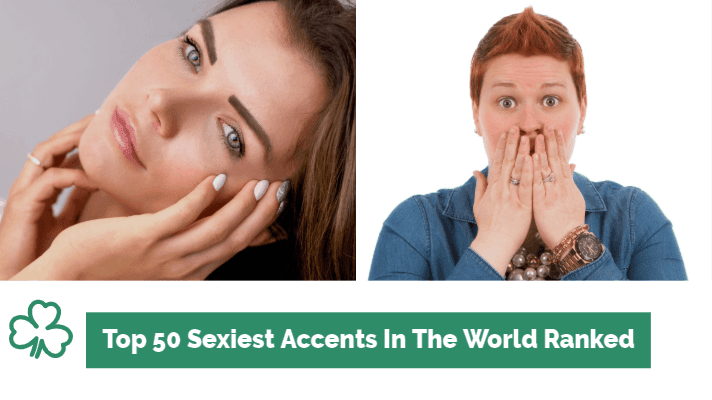 50th. Croatian
49th. Romanian
48th. Thai
47th. Pakistani
46th. German
45th. Welsh
44th. New York
43rd. Chinese
42nd. Japanese
41st. Geordie
40th. Latvian
39th. Malaysian
38th. Austrian
37th. Norwegian
36th. Egyptian
35th. Swiss
34th. Russian
33rd. Greek
32nd. Scouse
31st. Dutch
29th. Nigerian
28th. Boston
27th. Polish
26th. Indian
25th. Vietnamese
24th. Mexican
23rd. Turkish
22nd. Arabic
21st. Filipino
20th. Zimbabwean
19th. Argentine
18th. Mancunian
17th. Jamaican
16th. Danish
15th. Ukrainian
14th. Hungarian
13th. Canadian
12th. Queen's English
11th. Czech
10th. Brazilian Portuguese
9th. South USA
8th. Spanish
7th. French
6th. Scottish
5th. Australian
4th. Italian
3rd. Irish – Yay!
2nd. South African
1st. Kiwi
I don't know how the Kiwi accent has grown so much in popularity(or sexiness?).
Big 7 Media says:
To a novice ear, the New Zealand accent might sound just like the Australian accent, but Big 7 Travel readers disagree. The 'Newzild' dialect is outrageously charming. The sexiest accent in the world? It's official.
Do you have one of the sexiest accents in the world? Be sure to comment below and share.
P.S Get your weekly dose of Irish straight to your inbox here.