The Irish flag is also known as the tricolour and is the national flag of Ireland.
The Irish flag colours are Green, white and orange.
You probably already knew this?
But
You might not know that the Ivory Coast flag is orange, white and green.
Hence the major confusion behind these two flags.
The Irish flag and the Ivory flag are arguably one of the most confusing flags of all time.
You might be thinking that it is not that confusing, but if you place them side by side, they could easily be mixed up with someone unsure.
In fact, when you Google the flag and click on images, you can actually see an image on the Ivory Coast listed. See below:
Has anyone ever mixed up the Irish flag and the Ivory Coast flag?
You bet ya! The Irish flag has been mixed up by everyone from Wayne Rooney to some kids on a debate show. Even our Taoiseach made a mistake in a tweet.
Here is a side by side image of the Irish flag and the Ivory Coast flag:
Where is the Ivory Coast?
It might seem obvious, but the Ivory Coast is located on the West coast of Africa boarded by five other countries.
The Ivory coast also is known as Côte d'Ivoire and officially as the Republic of Côte d'Ivoire. See the location below(image source):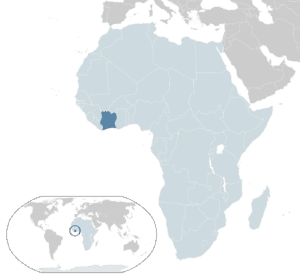 Okay, so what are some things you need to know about
the

Irish

flag

?
Good question! Some main things to keep in mind are:
For the Irish flag, the green colour on the flag represents the native people of Ireland (most of whom are Roman Catholic).
The orange colour represents the British supporters of William of Orange who settled in Northern Ireland in the 17th century (most of whom are Protestant).
Whereas in comparison with the Ivory Coast flag they simply mean Orange (Earth), White (Peace), Green(Hope)
The white in the centre of the flag represents peace between these two groups of people.
The Irish flag has a 2:1 ratio simply meaning it is twice as wide as it is tall.
When you are flying an Irish flag, the green side goes on the side of the flagpole.
Summary of the Irish flag vs the Ivory Coast flag:
I hope this post has cleared up some doubt of confusion about the difference between the two flags.
Do you know someone who has mixed up these flags before? Share this post with them or comment below.
Pin the image below to your Pinterest board:
Sources for this article was Wikipedia.
Thanks for reading and if you loved this article I would suggest reading some of these 65 Irish proverbs or for some humour how about these Irish memes.
Lastly, join my weekly dose of Irish and get updates like this straight to your inbox.