After some reflection, I have thought of a great new section for the blog "Irish Stories".
You may have noticed the weekly dose of Irish did not come out last week. I took a week off unexpectedly. But I am back now and want to share a new category with you!
Irish Stories:
A collection of Irish stories of peoples experiences, life lessons, connections and more.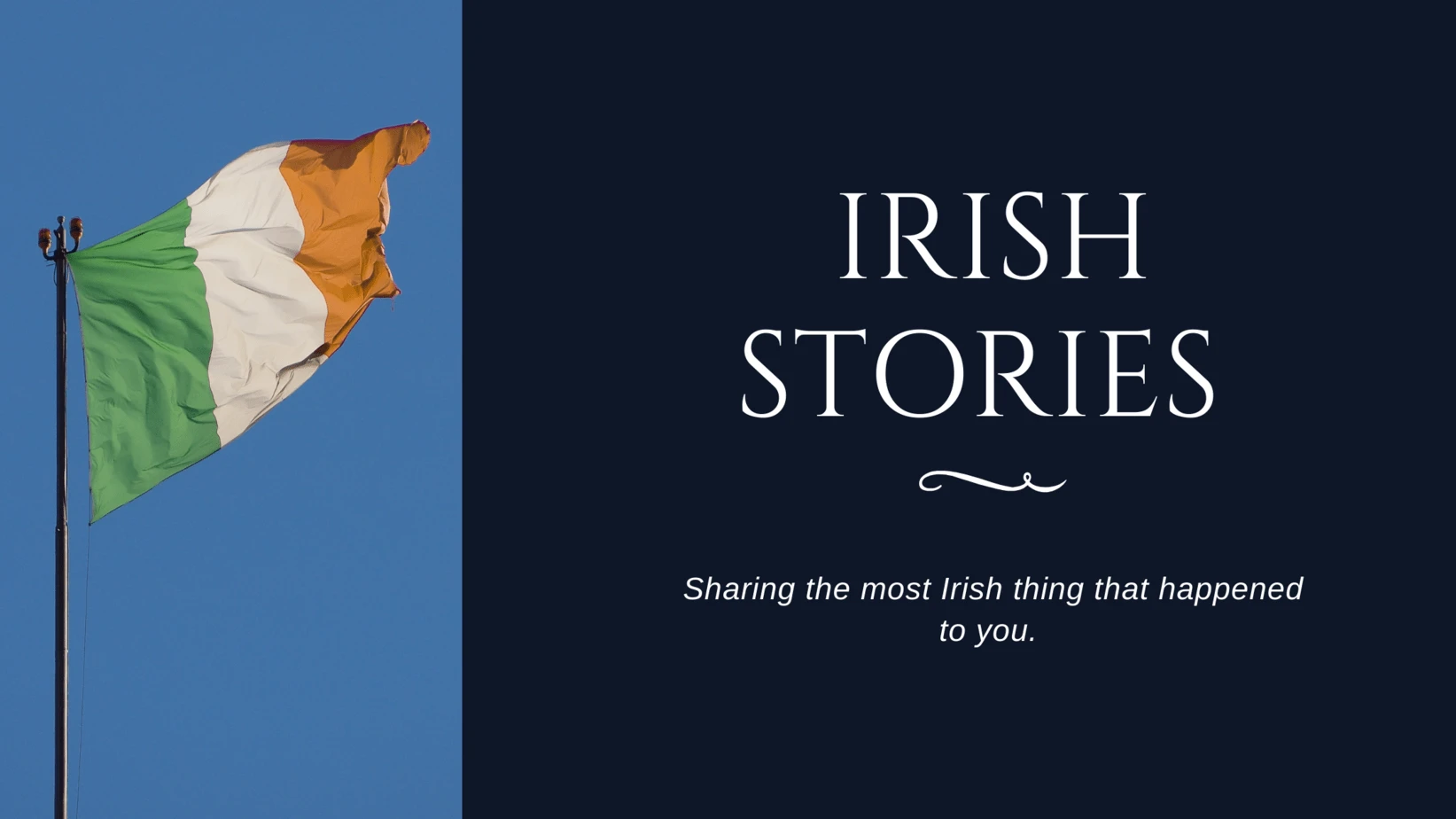 I think it is a great way to connect Irish people around the world further. Which, of course, was the main reason that I created this website back in 2014.
On my Facebook page, I posted, "What's the most Irish thing to happen to you in your life?
And in one day, I had over 700 comments. So I felt it would be lovely to share those Irish stories with you in this blog post. You can read all the comments on the post here if you wish.
Irish stories: "What's the most Irish thing to happen to you in your life?
Irish Stories #1:

Moved to Ireland when I was 19 to stay a year or two , stayed for 12years. Became my home. Spend all my 20's working , going out and meeting some amazing people . I made friends for life. Had amazing job , even met my partner in Limerick . He was working there on Adere Manor refurbishment and once that project finished he went back to London.

So I moved to be with him.

3years since I'm in London but miss Ireland and Irish people every day. They are just the best, friendlies kind people ever.

Still have some Irish accent ones I speak English with my clients here and they love it
Irish Stories #2:

Watching a boat laden with mussels come in to a small harbour. The owner asked if we had a bag, my son ran and got a sack and the guy filled it to about half full then said ' have a nice holiday'. But having lived there for 10 wonderful years I have too many stories of kindness, music and mirth

---

Irish Stories #3:

Going through Dublin airport security and the guy working the x-ray scanner flagged my son's bag. Another guy came along to search it. He dug around in it for a few minutes and then turned to the guy on the x-ray machine and said "what did you flag this for Johnny?" Johnny mumbled something back and the searching guy turns back to me and says "don't worry about him, he's a fecking eejit. Here, (hands me the bag) off you go"!!

---

Irish Stories #4:

Years ago a friend and I took a "mom's getaway" trip to Europe that included a stop in Dublin. We were Irish dance students in California and our teacher had arranged for us to join an adult class session on our Dublin layover. The teacher was and still is world-renowned and we were too intimidated to put our shoes on and join in. Who wanted to see a couple of awkward Americans step dance? So thank you very much, we'd just watch. The teacher came over and said, "How about you show us a couppla California steps, now?" We put our dance shoes on, showed them some soft shoe jig steps, and suddenly we were all just dancers together, enjoying music and dance steps that had been handed down for generations in Irish towns. Any anxiety we might have had melted away and we had the best evening ever!

---

Irish Stories #5:

My Mother used to tell me to walk upright, keep my shoulders back & not to slouch – or I'd suffer from pain & troubles in my neck & shoulders in later life!

I duly did as i was told – probably one of the few things I actually took on board when I was young & rebellious!

Anyhow…. many years later – when I got to know people better they told me that growing up they "hated the sight of me", because I had always walked around with my nose in the air like I was superior! On getting to know me they realised that isn't how I am at all – thanks for the great advice Mum!

By the way, I have a creaky neck – but that must because I went out with my hair wet – contrary to Mum's other advice – typical Irish luck!

But sure I'll be graaaaaand

Irish Stories #6:

Got a flat tire with my 2 girls in the car near Inniskeen the Postman stopped and offered to take us to Inniskeen I said sure! We were visiting from California, I was born in Cork, the girls whispered to me "Mom we're not supposed to travel with strangers" I said "Sure its the postman"! Had a lovely chat in the car he dropped us off all was well

---

Irish Stories #7:

I'm Irish, living in the Canaries and a couple of years ago, arriving at Dublin airport, going through passport control, the fella checking the incoming passengers, opened my passport, looked at me and said;

"Welcome home Jean"

Only in Ireland !

Irish Stories #8:

I'm Irish but moved to Scotland almost 20 years. A few years later when my kids were about 5 & 3 my husband booked a surprise trip to Disneyland Paris, I however could not find my passport and started to panic. I phoned the passport office in Dublin to see if I could get an emergency passport and the very nice lady told me unfortunately not but to say a prayer to Saint Anthony

---

Irish Stories #9:

My mammy packing ham/tayto sambos for my flight back to Canada every year ! 🙃 bless all the mammies !

---

Irish Stories #10:

Chatting to a girl behind a bar in Brighton. A good hour or so later we discovered we were 2nd cousins!

Irish Stories #10:

I went to New York for a holiday and was outside an Irish bar, when a gentleman started to speak to me. He said he was from Tipperary and I told him my father was from there. He said to me " don't tell me your name, let me guess." I laughed and said " Ok!" Thinking he was mad! 🤣 Next thing he said was " Are you a Brereton?" I nearly choked when he said it! I told him I was, and he was able to tell me all about my family. He even went to school with my uncle. It proved to me that everyone does know each other in Ireland!! 🤣🇮🇪❤
---

Irish Stories #11:

Over 20 years ago on holidays in Indonesia, my friend and I decided to go off plan and spend a few days on the island of Lombok- fairly off the tourist trail at the time, it involved a 5 hour ferry trip and it was a pure adventure even finding this amazing hotel after a 3 hour drive along the coast driven by 2 native lads in their minibus at night. Our pale bodies thrown down on sunbeds slurping cocktails the next day and talking about how nobody knew where we were if anything happened to us ( pre mobile phones and other tech) we nearly choked when a group of 4 men and a woman appeared through the doors from the hotel and walked past us weighed down with diving gear AND the strongest Dublin accents ever. I mean we were in a seriously remote part of the world and suddenly theres 5 irish people right here! Turned out they were all professional divers from Dublin on a diving holiday and wait for it– were all living within a few miles of where I was living in Dublin at the time and one guys sister was working with my friend. We had some craic for the week we stayed there and all met up a few times on our return to Dublin too. I always thought that was sooo irish– to meet other irish people even in a remote corner of the world but also to gravitate to socialising with each other for the holiday.

Irish Stories #12:

As tourist in central Dublin area years ago. We were boarding a bus to go to the Guinness factory. As we got on the bus. I gave the driver some money and he said "Sorry, we only accept exact change". we apologized and went to get off the bus. The driver, said 'Wait…. you can get change at the Bank on the route….have a seat". 5 minutes later he stopped in front of a bank as I rush in and got change. The people on the bus hardly noticed and not a word was said. I returned to the bus paid and got back to my seat. It was a joyful trip and soon we arrived. As we got off the driver said have a blessed day.
Which of these was your favourite Irish stories?
I had a lovely time reading through these. It just goes to show how we are all connected around the world. I look forward to sharing more of these with you in the coming months. If you would like to share your Irish story. Send me an email at [email protected].
I look forward to hearing from you. Don't forget to join my weekly dose of Irish, where I send you all things Irish every Friday.
Cheers,
Stephen