I am sure that many of you reading this have dreamed about being stuck on a paradise island?
Maybe you wished that plane got cancelled on the last day of your holiday and you had a few extra days in paradise?
Well, in a way, this happened to me. If you have been following my weekly dose of Irish email every Friday, you will know that I have been on an extended honeymoon and was just on my last week of honeymoon in the Cook Islands.
For those of you who don't know the Cook Islands are in the South Pacific Ocean, northeast of New Zealand, between French Polynesia and Samoa. The Cook Islands is made up of 15 islands and the main one being Rarotonga.
I found this video a great way of explaining how amazing these islands are.
I have travelled to a lot of countries and never seen water so blue.
Particularly the island of Aitutaki which has by far the bluest water I have seen in all my travels!
We decided to wrap up our honeymoon with a two-island visit outside of Rarotonga, which included Aitutaki and Atiu island. Both incredible and unique in their own way.
Followed by our last week on the west side of Rarotonga(which is known for its amazing sunsets).
And life was great!
We were relaxed, tanned and happy.
Of course, we were monitoring the Coronavirus situation, and travel seemed still to be possible.
That was until things changed faster than we could ever imagine
In the last week, borders shut faster than I could book flights. In fact last week there were three ways to leave Rarotonga(the main island of the Cook Islands) via Auckland, Sydney or Los Angles.
I had a flight booked for this week to Auckland and knew that I would have to get home sooner than that at the rate things were changing.
So as the news came in that New Zealand had closed its borders to everyone except New Zealand citizens, we quickly changed our plans.
Our best bet was a flight from Rarotonga to Los Angles. It was the last flight from here to the United States(for the foreseeable future).
From there we also found a flight from Los Angles direct to London and a flight direct from London to Cork. Happy days!
Keep in mind this was two days before that flight, and we had forked out around €2500 between us for flights.
The next day we got an email from United Airlines that our flight had an "update". It was now rescheduled to leave 24 hours later and stop in Washington for several hours.
Which meant that we were going to miss our Ryanair flight from London to Cork(which we never got refunded).
Things in Ireland were just starting to get worse as well, the mandatory two-week quarantine was just put in place, and Italy's situation went from bad to catastrophic.
We panicked at the fear of getting stuck in the United States unable to return home or worse stranded in transit like so many people are.
In just 24 hours our United flight had already postponed our flight by a day and diverted us via Washington.
So the day before our flight we called United, and after a one hour hold, United said that it is possible the flight could be cancelled, but there is no guarantee.
With so much doubt and fear of catching the virus itself, we panicked and cancelled the flights.
Now you might be saying "Whhhaaat!?" and I don't blame you but keep in mind we still had a lot of savings. I was still earning money from blog's, and on top of that, the Cook Islands had zero cases of the Coronavirus.
If anything, it was the best place you could be in the world at that moment. My friends and family back in Ireland were honest with me, explaining just how bad the situation was becoming.
It was a decision we made and whether it was the right one or not it is done now.
It has now been a full week since that flight left here. I don't know if the United flight made it to London in the end, but one thing is for sure I am glad I am here right now.
The current situation in the Cook Islands:

The Cook Islands are taking every measure possible to ensure the protection of their people.
The only access to the Cook islands now is via New Zealand, and any Cook Islanders returning from New Zealand have to do two weeks self-isolation.
Nearly every shop allows a limited number of people in, with hand sanitizer for every customer and at least 2 meters apart at the checkouts.
Along with a lot of other measures, they are doing an incredible job. The locals here must be some of the nicest and most helpful people in the world. I don't think I have had a conversation with anyone that hasn't been greeted with a smile.
I have managed to secure accommodation on a week by week basis. No one has taken advantage of our situation, and the place we are staying has given us their daily rate as their weekly rate.
Basically, if it was NZD$300 a night, they are letting it to us for NZD$300 a week.
We have been overwhelmed by the support. In total there is around 25 Europeans and other travellers who are in a similar situation.
Although I am not sure of the exact numbers. Including Sweden, Norway, Germany, Italy, Scotland and Taiwan.
Some are actively looking for a way back home while others are settling in for what could be an indefinite amount of time.
As of right now, there is still no Covid-19 cases on the island, and I hope for everyone's here that it stays like that. Although if some cases do come here, I think they will be more than able to control it.
Other Irish stuck abroad: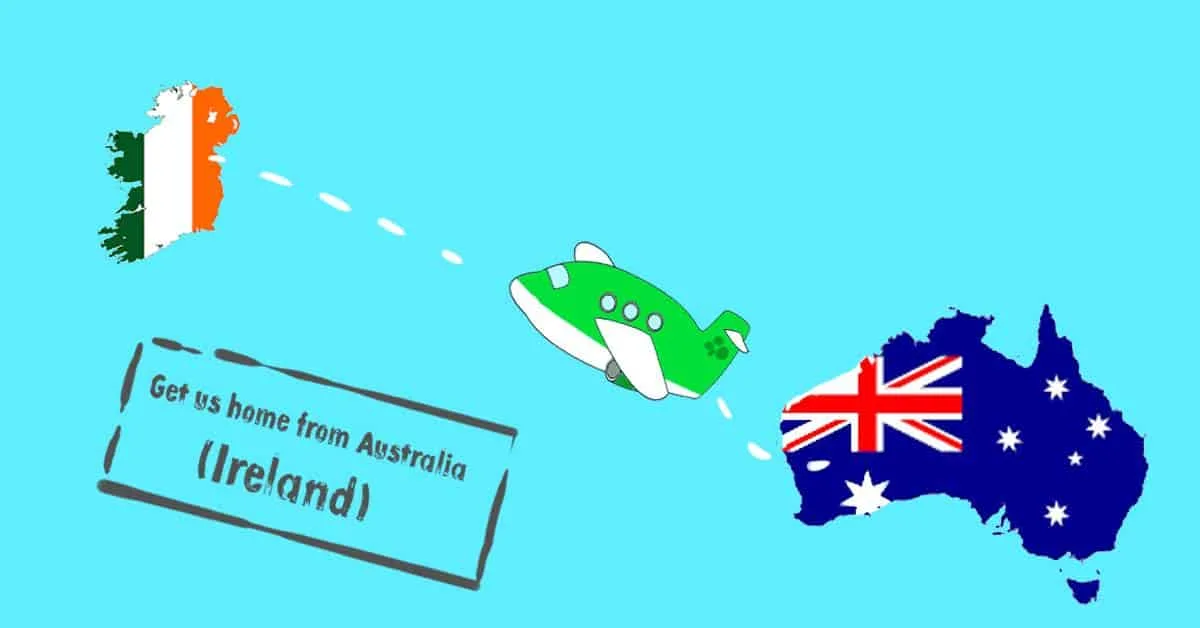 Now while my situation is probably the best that it could be given what is happening. Many Irish and other travellers are in far worse situations than me.
As the founder of Irish Around Oz, I am doing all that I can to raise awareness for Irish people in Australia.
After the UAE border shut along with Singapore, many thousands of them were literally left stranded in Australia and New Zealand.
There is a new Facebook group set up for Irish trying to get home from Australia here.
I don't know what will happen to my new wife and me here. If another opportunity to return to Ireland does present itself, I probably will take it.
While it is great to be isolated here, I fear a family or friend falling ill and being helpless to do anything.
This is a desperate time for the world, and I have no idea how things are going to unfold. I can only hope that the virus levels out and becomes controllable.
Once again, I hope that wherever you are, you remain safe, we are in this together and thanks for taking the time to read my story.
All the best,
Stay safe
Stephen Palmer
P.S If you have a similar story, you can send them to me at [email protected]