Ah, my second last poem to cover in my top 100 Irish poems. I only have number one to cover next which I will share in my weekly dose of the Irish newsletter next Friday. Sign up here for it.
This week I picked number 92 from the list.
So what is this famous Irish poem, An Bonnan Bui, all about?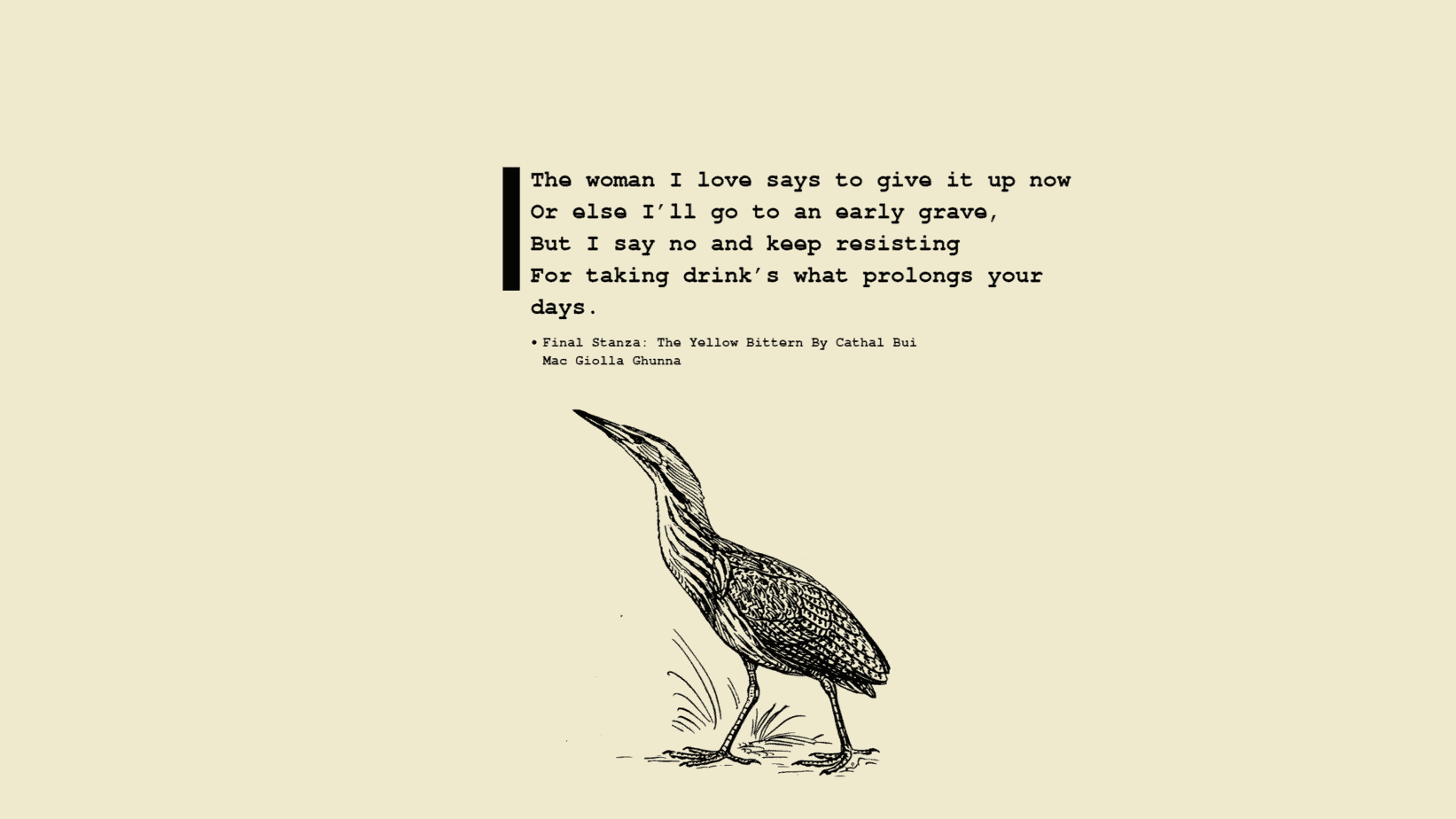 An Bonnán Buí, also known as "The Yellow Bittern," is an Irish poem and traditional Irish folk song. The poem is written in Irish, and I have added the translated version by the great Seamus Heaney underneath it. This poem is about is quite appropriate for January as many of us, including myself, are doing Dry January(basically where you don't drink alcohol for January).
The poem, although quite sad, is about a bird(Yellow Bittern) who dies from drinking too much water. Of course, this is where the alcohol-related to the poem comes in. This is particularly noticeable in the final stanza, where the poet opens up more about what the poem is about.
The poem is typically sung in the Irish language and is a classic example of the traditional Irish style of ballad poetry. The song was transmitted throughout Ulster and into Connacht. I also found this incredible video of a woman signing the ballad. It will give you chills. Enjoy
An Bonnan Bui(Irish version)
A bhonnáin bhuí, is é mo léan do luí,
Is do chnámha sínte tar éis do ghrinn,
Is chan easba bidh ach díobháil dí
a d'fhág i do luí thú ar chúl do chinn.
Is measa liom féin ná scrios na Traoi
Tú bheith i do luí ar leaca lom',
Is nach ndearna tú díth ná dolaidh sa tír,
Is nárbh fhearra leat fíon ná uisce poll.
A bhonnáin álainn, is é mo mhíle crá thú,
Do chúl ar lár amuigh romham sa tslí,
Is gurbh iomaí lá a chluininn do ghrág
Ar an láib is tú ag ól na dí.
Is é an ní a deir cách le do dheartháir Cáthal,
Go bhfaighidh sé bás mar siúd, más fíor,
Ach ní hamhlaidh atá, siúd an préachán breá
Chuaigh in éag ar ball le díth na dí.
A bhonnáin óig, is é mo mhíle brón
Thú bheith sínte fuar i measc na dtom,
Is na luchaí móra ag triall chun do thórraimh,
Ag déanamh spóirt agus pléisiúir ann;
Is dá gcuirfeá scéala in am faoi mo dhéinse
Go raibh tú i ngéibhinn, nó i mbroid fá dheoch,
Do bhrisfinn béim duit ar an loch úd Bhéasaigh
A fhliuchfadh do bhéal is do chorp isteach.
Ní hiad bhur n-éanlaith atá mé ag éagnach,
An lon, an smaolach, nó an chorr ghlas,
Ach mo bhonnán buí, bhí lán de chroí,
Is gur chosúil liom féin é ina ghné is ina dhath.
Bhíodh sé go síoraí ag ól na dí,
Is deir na daoine go mbímse mar sin seal;
Níl aon deor dá bhfaighinn nach ligfinn síos,
Ar eagla go bhfaighinnse bás den tart.
Is é a d'iarr mo stór orm ligint den ól,
Nó nach mbeinnse beo ach seal beag gearr;
Ach dúirt mé léithi go dtug sí an bhréag,
Is gurbh fhaide mo shaolsa an deoch úd a fháil.
Nach bhfaiceann sibh éan an phíobáin réidh
A chuaigh in éag den tart ar ball;
Is a chomharsain chléibh, fliuchaíg bhur mbéal
Óir chan fhaigheann sibh braon i ndiaidh bhur mbáis.
THE YELLOW BITTERN
(Translated from An Bonnán Buí in the Irish
of Cathal Buí Mac Giolla Ghunna)
Yellow bittern, there you are now,
Skin and bone on the frozen shore.
It wasn't hunger but thirst for a mouthful
That left you foundered and me heartsore.
What odds is it now about Troy's destruction
With you on the flagstones upside down,
Who never injured or hurt a creature
And preferred bog water to any wine?
Bittern, bittern, your end was awful,
Your perished skull there on the road,
You that would call me every morning
With your gargler's song as you guzzled mud.
And that's what's ahead of your brother Cathal
(You know what they say about me and the stuff)
But they've got it wrong and the truth is simple:
A drop would have saved that croaker's life.
I am saddened, bittern, and brokenhearted
To find you in scrags in the rushy tufts,
And the big rats scampering down the rat paths
To wake your carcass and have their fun.
If you could have got word to me in time, bird,
That you were in trouble and craved a sup,
I'd have struck the fetters of those lough waters
And wet your thrapple with the blow I struck.
Your common birds do not concern me,
The blackbird, say, or the thrush or crane,
But the yellow bittern, my heartsome namesake
With my looks and locks, he's the one I mourn.
Constantly he was drinking, drinking,
And by all accounts I've a name for it too,
But every drop I get I'll sink it
For fear I might get my end from drouth.
The woman I love says to give it up now
Or else I'll go to an early grave,
But I say no and keep resisting
For taking drink's what prolongs your days.
You saw for yourself a while ago
What happened to the bird when its throat went dry;
So my friends and neighbours, let it flow:
You'll be stood no rounds in eternity.
What did you think about the poem An Bonnan Bui?
I think it deserved a much higher place than 92 on the top 100 Irish poems list. I have also made this lovely image of the last stanza, which in my opinion, had the biggest impact on reading.