If there is one song that has been sung over and over again, it would have to be Danny Boy.
You would be amazed over the years how many people have created a cover of the original song.
The list includes Thin Lizzy, Tom Jones, Eric Clapton, Elvis Presley and the list goes on and on! – Source wiki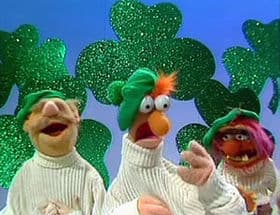 Either way, Danny Boy remains as one of the most popular and well known Irish love songs of all time.
I will shortly have an article about some interesting facts about the song so stay tuned or join my weekly dose of Irish here.
The version today, however, has reached over 10 million views on YouTube and is a lovely reminder of the scale of St Patrick's day.
Here are the muppets version of "Danny Boy". Enjoy and be sure to share! The image quality is not perfect but the audio is.
Just great isn't it? I also really enjoyed Eric Clapton's more chilled version of Danny Boy, you can have a listen to it below:

If you are looking for some lovely Irish music for St Patrick's day. This article has a playlist with over 4 hours of great Irish music.
Otherwise, enjoy these St Patrick's day facts and have a great day wherever in the world you are celebrating!
Thanks,
Stephen