You may or may not know that there are a lot of Irish New Year's traditions. Additionally, there is a whole host of Irish New Year's Blessings over centuries, even as far back as the Celts.
So to make things easy for you to read, I have bullet pointed an Irish New Year's tradition followed by some lovely Irish New Year's blessings.
I hope that 2022 brings you everything you wish.
Best Irish New Year's Traditions And Irish New Year's Blessings: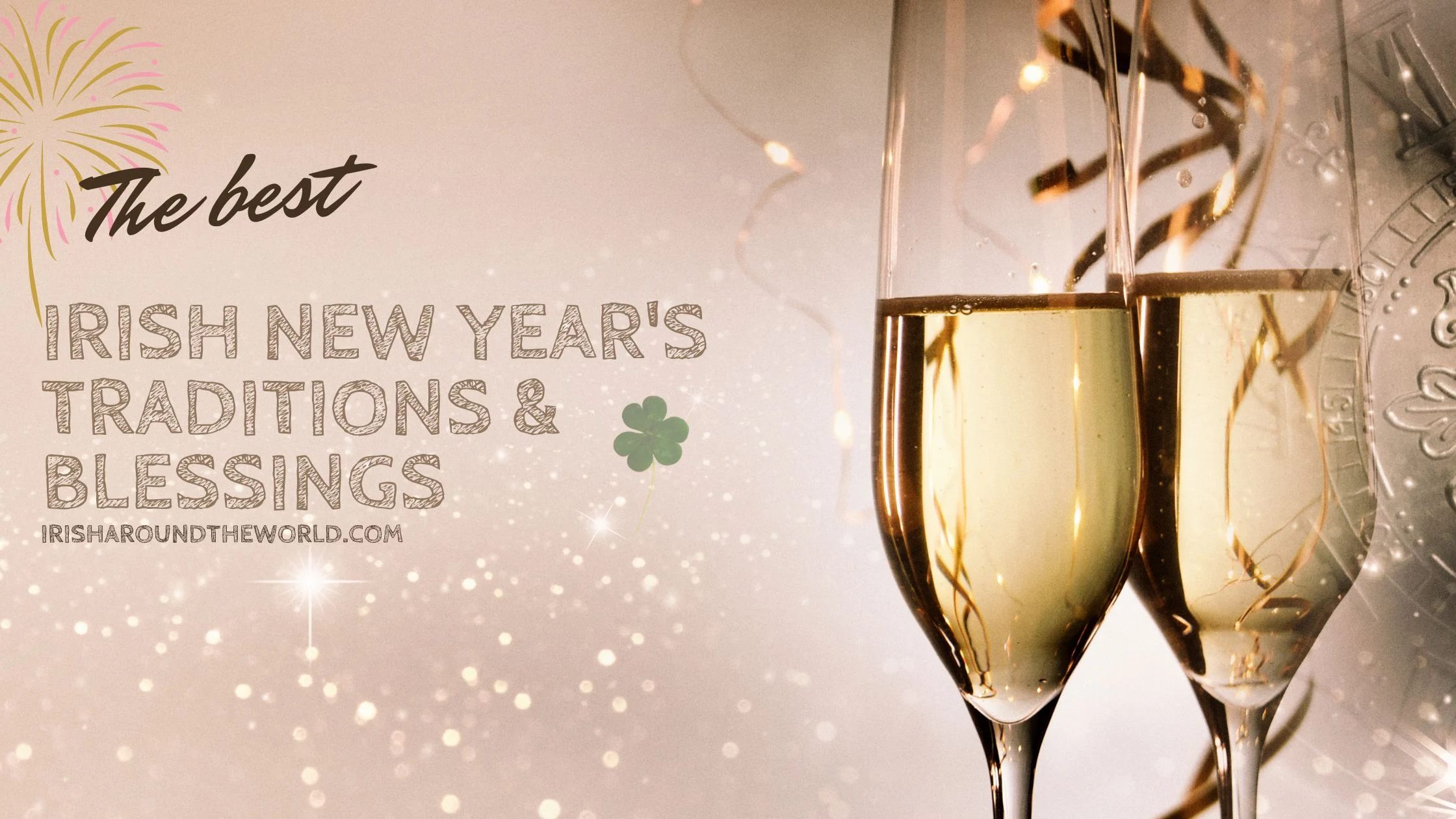 Clean the house – Irish families would typically clean the house until it was absolutely spotless. Some would say, "the house is so clean you could eat off the floor!" It was meant to clean the old and bring in the New Year afresh. Not a bad tradition at all.
"Always remember to forget
The troubles that pass away.
But never forget to remember
The blessings that come each day."
Set the table for those who passed away – Irish families would honour those that have passed away that year by setting a place at the table for them.
"May your pockets be heavy and your heart be light.
May good luck pursue you each morning and night."
Open the front and back door – I haven't actually heard of this one, but at midnight Irish homes would open the back door and even the front door at the stroke of midnight. Then any guests would walk through from the front door to the back door. Have you done this Irish New Year's tradition? Comment below and let me know.
"May your heart be light and happy, may your smile be big and wide, and may your pockets always have a coin or two inside!" <- My personal favourite Irish New Year's blessing.
The first person to leave must be a man – The first person to leave an Irish home after New Year has to be a man. Nothing sexist here. It was just believed that if a man(the more handsome, the better) were to leave first, then the year ahead would be prosperous and bring good fortune. However, if a woman were to leave first, it would bring bad luck. If that woman also had red hair, it was believed to be even more bad luck. Not sure what would happen if they both left at the same time? Haha.
"Here's to a long life and a merry one. A quick death and an easy one. A pretty girl and an honest one. A cold beer–and another one!"
How to dream of your future partner – The strangest of all Irish New Year's traditions has to be this next one. Single? Put some mistletoe under your pillow before bed, and you would dream of your future partner that night. I guess this would, of course, depend on how much you had to drink the night before, haha. I wonder whether people would wake up with mistletoe in their hair the next day.
What did you think of these Irish New Year's traditions and blessings?
Some are pretty dated, but I do like the one about setting the table for those that you have lost that year.
I wish you a happy new year, and you can read a whole lot more Irish sayings here.
All the best,
Stephen Palmer