Irish people are one of the most romantic, and you will find so many of these Irish love quotes and poems used around the world. There are literally countless Irish love songs, quotes and poems that help express love. Don't believe me? I don't blame you. But stick with me when I share some Irish love quotes that have been quoted by celebrities around the world. Following some Irish poems, you can rob a line or two for your loved ones. Lastly, some pure magical Irish blessings.
By the end of this, you will be a romantic heartthrob that nobody can resist. So stick with me 🫡☘️
Irish Love Quotes
After all, Personally, I love a great love story, and we are most alive when we're in love. Not my words but I made you blush, didn't I? 😊
5 Irish Love Quotes that will make your partner swoon(yes, swoon!)
I loved you first: but afterwards your love – Christina Rossetti

You are the poem in my heart – W.B. Yeats

My love is like a red, red rose – Robert Burns

I have waited for this opportunity for more than half a century, to repeat to you once again my vow of eternal fidelity and everlasting love – Gabriel Garcia Marquez

Whatever our souls are made of, his and mine are the same – Emily Bronte
Irish Love Poems – if the above didn't work, then it is time to bring out the big guns!
Sometimes a few words don't cut it. Sometimes a small love poem is needed. Maybe you are looking for Irish love poems before an engagement or an anniversary. Well, don't worry. These will melt your partner's heart and make her feel loved. Bonus points if you can learn it off by heart and even more if you can say that you looked through dozens of Irish poems to find this just form them 💦.
These are special, timeless and romantic.
5 Irish Love Poems that will make your partner feel loved and cherished
Irish Blessings for Love and Marriage
Okay, so your loved one is still not impressed and wants more!? No problem, you got this. Well, I do, but I will give you the tools to help ☘️
What is an Irish blessing?
An Irish blessing is a traditional way of wishing something for someone. The most well-known being 'May the road rise up and meet you'. Now not particularly romantic, right? But when you put on a bit of an Irish accent and read this as part of a wedding speech or a wedding anniversary, it can be very romantic. It makes for a perfect toast for a wedding. This one is particularly useful for a best man or even a father-in-law.
Irish blessings for love and marriage: May the road rise up to meet you(also known as a traditional Irish blessing)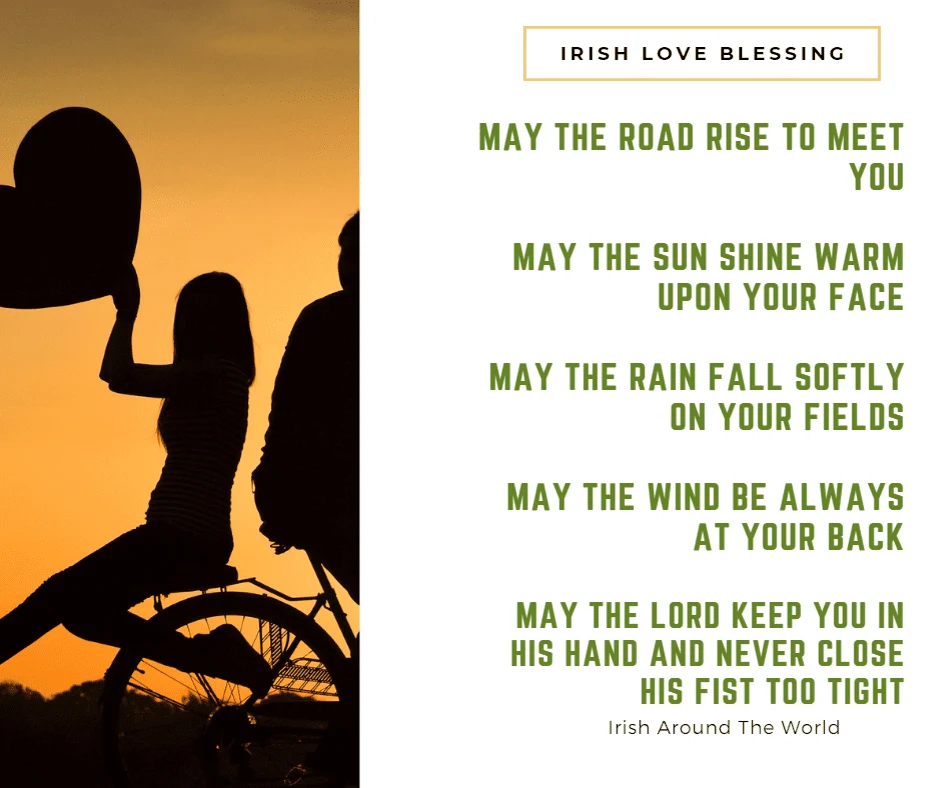 May the road rise to meet you

May the sun shine warm upon your face

May the rain fall softly on your fields

May the wind be always at your back

May the Lord keep you in His hand and never close His fist too tight
Please tell me if these Irish love quotes worked.
I always enjoy putting lists like this together. Real people in the real world use them all the time, and if at the end of every speech you give you could just mention that "I got it from Stephen at irisharoundtheworld.com" at the end of every speech? Haha, joking, of course! 😉
And if you are also looking for a great Irish toast, I love this one:
When we drink, we get drunk. When we get drunk, we fall asleep. When we fall asleep, we commit no sin. When we commit no sin, we go to heaven. So, let's all get drunk and go to heaven! – Irish Toast
But if your appetite for love is not yet full, I have these 15 love quotes for Valentine's day that you might find useful. Or for more Irish blessings, I have 100 Irish blessings here.
Thanks for stopping by, and have an amazing day!
Stephen Palmer(Irish love quotes guru😉)