I was so surprised when I saw this hidden Celtic symbol image go viral over a year ago.
There was little to no background on how it could have happened.
In fact, all there was, was a short video from a drone and a brief description.
You might be scratching your head now and wondering what on earth I am talking about?
Well before I get into the details, I must introduce you to Gareth from Gareth Wray Photography.
He took these fantastic shots and as far as I know the only person to have the full correct back story to these Celtic Symbols around Ireland.
You can see some other sensational shots from around Ireland on Gareths website here. But be sure to give his Facebook page a like, he was delighted to share these shots and story with you.
So let's get to our first hidden Celtic Symbol in Ireland:
If you read my previous article on Celtic Symbols, you will likely recognise the Celtic Cross in the centre of the picture.
It is known as the "The Emery Celtic Cross."
Each year this giant 'Emery Celtic Cross' appears from nowhere like a miracle, proudly stamped onto our landscape for the world to admire.
Gareth said he loves this marvel not only for its sheer beauty but for the sensational story on how this all came to be.
This giant 100-meter long Celtic cross is now known as the "Emery Celtic Cross" which is proudly named after its creator Liam Emery.
Liam intelligently planted two different species of pine trees in the shape of this giant Celtic cross design ten years ago in these woods of County Donegal.
The reason being that the outer trees are evergreen and don't drop their needles during Autumn, but the trees used for the actual cross design are not evergreen & turn a golden colour right before they drop their needles for the cold seasons ahead.
After a decade of this forestry secretly growing all the same colour, it was only a few years ago that these trees finally matured enough to shed their needles during autumn.
This hidden wonder became visible for the first time & the "Emery Celtic Cross" was first sighted by local passenger plane pilots who believed it to be an actual miracle of some form!
Unfortunately, Mr Liam Emery passed away seven years ago and never got to witness his stunning creation expose itself, but I'm sure he is now smiling from ear to ear with pride when he stares down from heaven at his now miracle famous "Emery Celtic Cross".
We thank you, Liam, for this lasting Legacy, you have certainly helped God put a stamp on Ireland ☘
The second hidden Celtic Symbol in Ireland:
While I am sure, you are nothing but amazed from the first Celtic Cross. Brace yourselves for our next hidden Celtic Symbol.
It is located in Glencar Lake, County Sligo/Leitrim, Ireland and is a Celtic Trinity Knot.
I am sure you have spotted it on the left.
Growing on 'Tormor Hill' on the shore of Glencar lake is this gigantic Celtic Trinity love knot. Planted in the mid-1980s by Jim McCabe & his Family.
Jim privately funded and planted this Trinity Knot simply for everyone to enjoy.
Two species of conifer trees were used to achieve this design.
Sitka Spruce was used for the surrounding woods as they are evergreen & remain a green colour all year.
Japanese Larch was used for the trinity knot as during autumn they shed & change colour leaving behind this almost miracle symbol.
They plotted the hill using white plastic bags, ground pegs and a two-way radio to give instructions from the opposite end of Glencar Lake.
The "Emery Celtic Cross" in Donegal was created by the same methods & possibly inspired by this stunning design.
There is one unusual thing I need to explain to you about this location:
The Glencar Lake & surrounding hills are divided between 2 different counties!
Co. Sligo & Co. Leitrim!
The bottom half of this photo & The Trinity Knot design is in County Sligo. The top half of this photo & lake is in County Leitrim ⚖️ Just incredible!
The third symbol that is hidden around Ireland
Now the third is not an actual Celtic Symbol or a symbol at all. But I wanted to include it as it was another fascinating story.
It is the Glencar Waterfall, Leitrim, Ireland.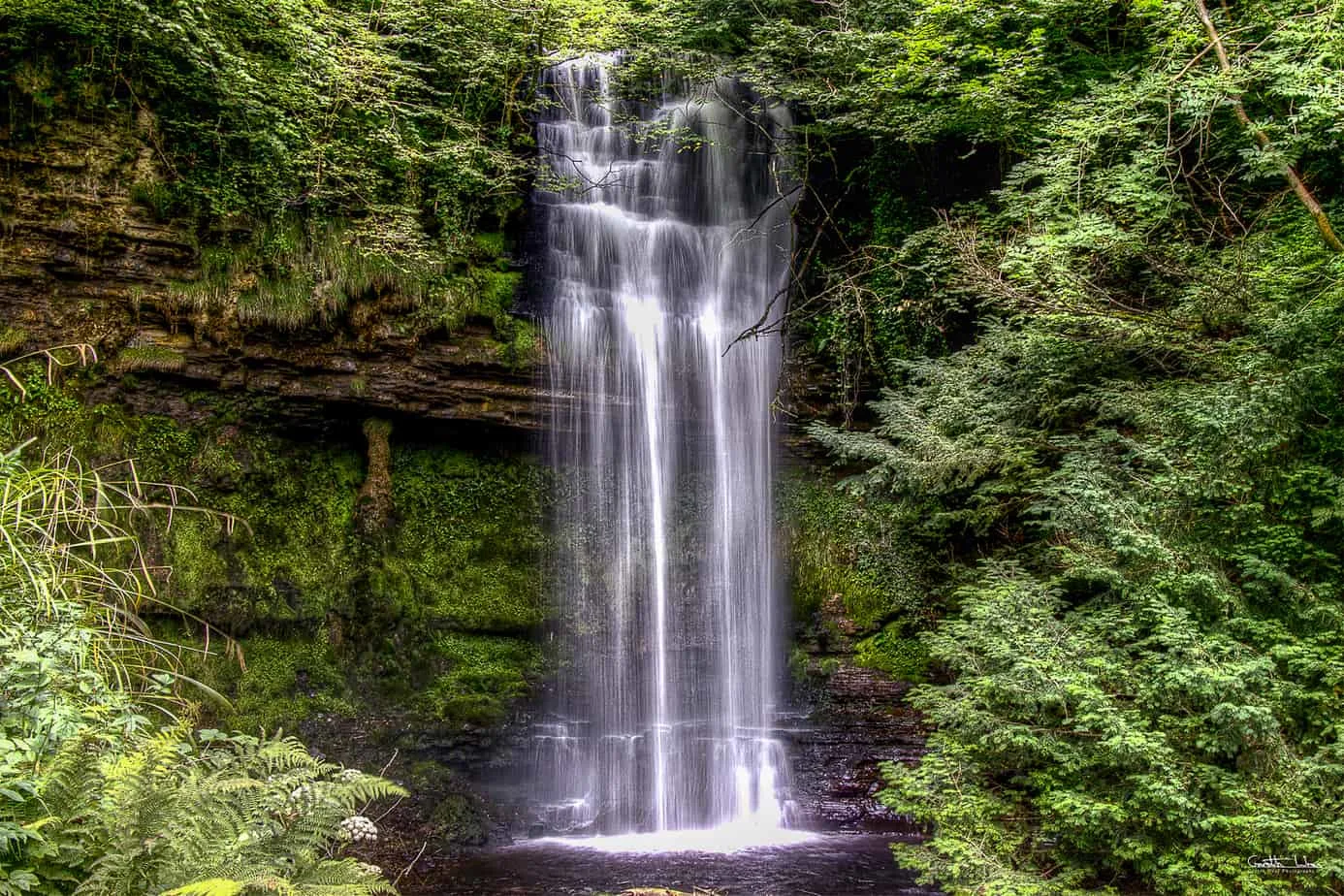 What is so unique about this waterfall?
Glencar Waterfall is 50ft high and is situated in Glencar Lough, 11km west of Manorhamilton and served as an inspiration to William Butler Yeats and features in his poem 'The Stolen Child.'
'Where the wandering water gushes
From the hills above Glen-Car,
In pools among the rushes
That scarce could bathe a star,'
The waterfall is awe-inspiring after rain and can be viewed from a lovely wooded walk.
There are more waterfalls visible from the road although none are quite as romantic as this one. Picnic facilities and information kiosk are on site.
Do you know of any more Celtic Symbols hidden around Ireland?
As you can see from above, they are incredible and must be shared with as many people as possible. If you enjoyed this post, be sure to share or PIN the image below.
If you do know of any more hidden Celtic Symbols, please do email me at [email protected].
If it is your first time here, be sure to subscribe to my weekly dose of Irish. Every Friday straight to your inbox for free.
Thanks for stopping by and don't forget to like Gareth's Facebook page here.
All the best,
Stephen Palmer