Looking at my St Patrick's day countdown, I can see that it is just over a month until St Patrick's day 2023!
You are likely reading this before St Patrick's day or on March 17 somewhere in the world. So welcome. Did you know over 100 countries around the world celebrate March 17, but only two have a national holiday for it? These include Ireland and the Caribbean island of Montserrat; wow.
So wherever in the world you are reading this, I hope you enjoy this collection of St Patrick's day poems. They are related to the date March 17 and hold some connection to being Irish. You can read the full length of each of these poems by clicking on the link. However, I have included a short synopsis of the poem. Read one, read them all. It is entirely up to you. Most importantly, have an incredible St Patrick's day 2023!
And if you are looking for an extra bit of Irish poems, I cover 100 other great ones here.
I will cover each poem on my weekly dose of Irish every Friday if you are reading this article before St Patrick's day. You can subscribe here for free.
7 Inspiring St Patrick's Day Poems, Ballads And Prayers: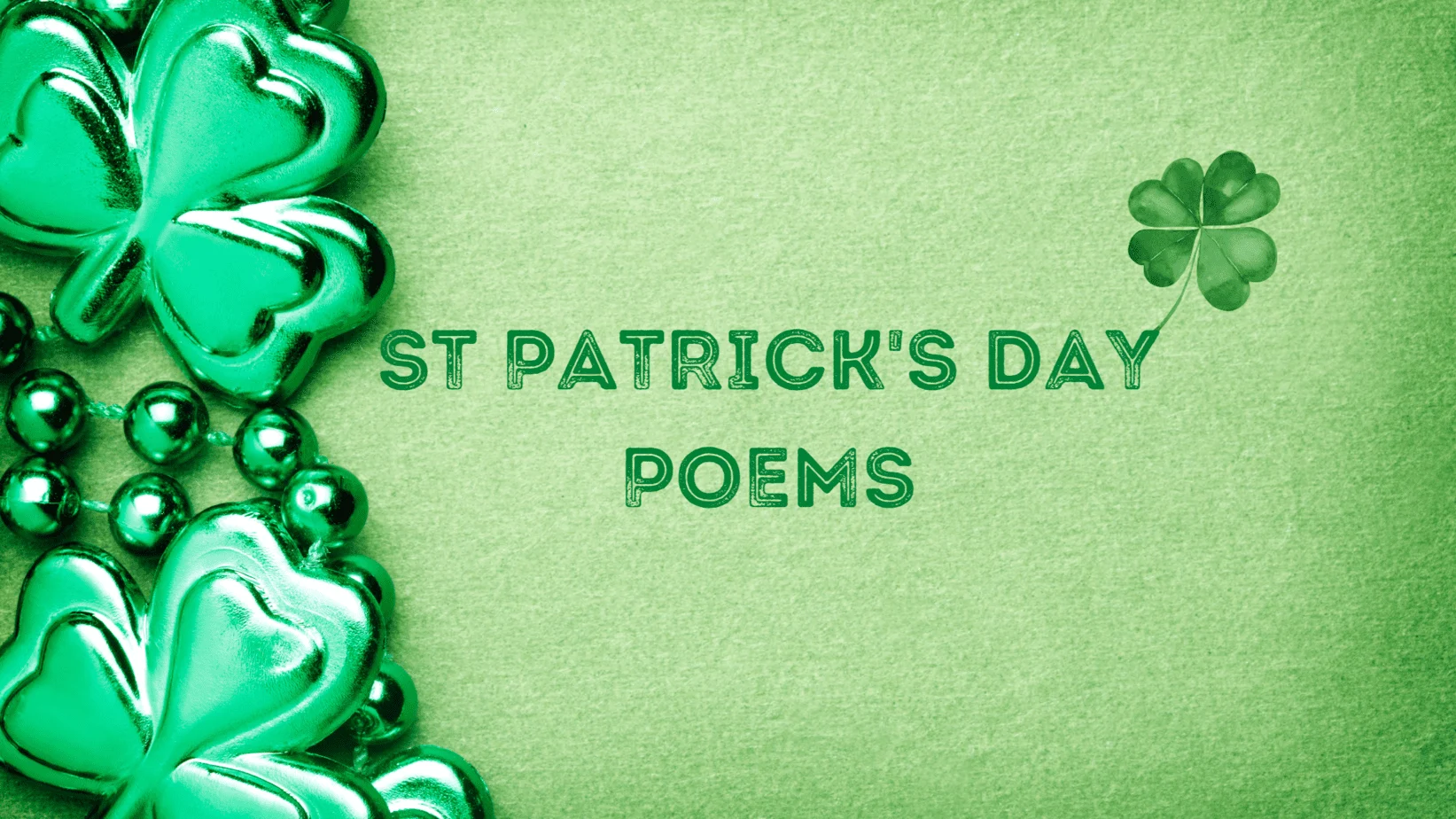 These are not in any particular order. Enjoy.
1″The Wearing of the Green" – A St Patrick's day ballad
This traditional Irish ballad is often associated with St. Patrick's Day. The poem is a lament for the suppression of Irish nationalism and wearing green as a symbol of pride in one's Irish heritage.
Below is a cover from the Wolftones:


This popular song was written in 1912 by Chauncey Olcott, George Graff Jr., and Ernest R. Ball. The song is often performed on St. Patrick's Day and is known for its upbeat and cheerful tone. Common you all know the lyrics by now?
I included a lovely cover by Bing Crosby, sung all the way back in 1939! Wow. You can listen to the song or, should I say, a ballad here. And, of course, I have added the lyrics there for you.
3. "St. Patrick's Breastplate" –
This is a prayer attributed to St. Patrick and is believed to have been written in the 5th century. The poem is a powerful expression of faith and is often recited on St. Patrick's Day to honour Ireland's patron saint. It is often sung during the celebration of the Feast of Saint Patrick on or near March 17, as well as on Trinity Sunday. I will have the full article on this, including the prayer, soon.
4. St Patrick's day blessing
Sure, I had to include a St Patrick's day blessing in this article. I have many more that you can read, including some lovely Irish toasts in this post.
5. St. Patrick's Day Poem By C. C. Hassler
It's manny-an manny a year gone by.
From over the wather a hailing.
A sprig of a bye, wid a clear blue sky
I came to this country; a sailing.
My heart bate within wid a rollicking tune,
On my breast was the shamrock adorning.
When I first touched the ground, sure the bands all around
Played St. Patrick's glad day in the morning.
Good luck to the ship that brought me across.
An' here in God's country was landed,
For never a time, without dollar or dime
Hove I found myself here empty-handed.
I've a snug little home that shelters us all.
Where no landlord's face is a warning.
An' I hail with delight when day follows night.
St. Patrick's glad day in the morning.
My heart often wanders back to the old sod.
An' the dear ones behind me a leaving -,
But while others above, I should This Land I love
Sure, it's not to go back I'm a grieving.
I love the free air, in this blessed land where.
I can look back on royalty scorning,
An' as the bands play I can welcome the day,
St. Patrick's glad day in the morning
I am sure many of us will search for a four-leaf clover on St Patrick's day. Legend has it that if you find one on this day, your luck is doubled! So keep an eye out. This is a wonderful short poem by Eloise A. Skimings. Have you ever found a four-leaf clover? Comment below.
Four Leaf Clover
How many times, dear,
Have you wander'd o'er the meadow.
To pick the four leaf'd clover.
All for me, all for me.
How many times, dear,
Have you prayed for good luck for me.
And pick'd the four leaf 'd clover.
All for me, all for me,
Can I ever, dear,
Forget your pretty meadow,
Where grows the four leaf'd clover,
All for me, all for me.
7. Final poem about St Patrick's day by Unkown.
The shamrocks, green and bright, Dance in the gentle breeze. As we celebrate the Emerald Isle's light, And the spirit of St. Patrick's day with ease.
With laughter, music, and good cheer, We come together, hand in hand. To honour the patron saint of Ireland dear, And the traditions that span the Emerald land.
The pipes they play a jolly tune, As we raise a glass of Irish mead. For on this day, the skies are blue, And all our hearts.
What other St Patrick's day poems do you know or would like me to include?
I know there are plenty more poems, ballads and prayers I could add to this list, but I feel that this is a good start. You can pop over to the main St Patrick's day section here, where you will find many more Irish jokes and facts about St Patrick himself.
Have a great St Patrick's day! ☘️☘️☘️☘️☘️