Ireland is an amazing country, and I am sure that these Irish facts will surprise you. They certainly did for me.
I try to update this article weekly and share new Irish facts on my weekly dose of Irish here(subscribe here).
Let's get to 100 Irish facts about Ireland. ☘️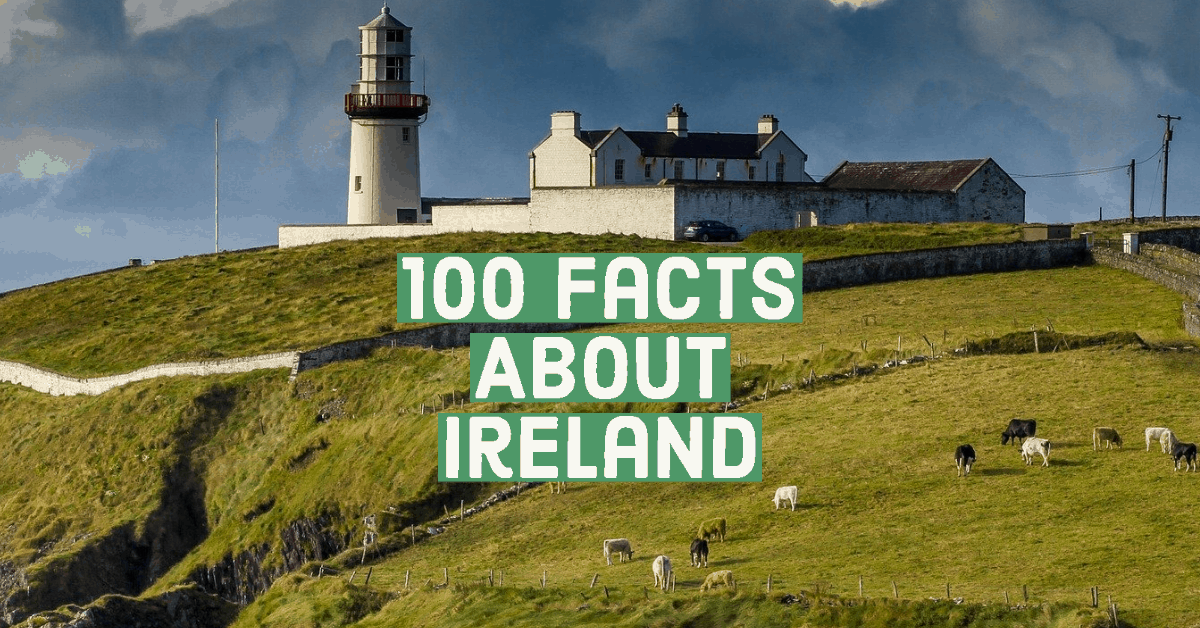 Ireland has won the Eurovision Song Contest seven times, more than any other country. Ireland has won in 1970, 1980, 1987, 1992, 1993, 1994 and 1996.

Newgrange is 5,000 years old, making it older than the ancient pyramid of Giza and Stonehenge. During the winter solstice, light penetrates through to the burial tomb for about 19 minutes.

The oldest bar in the world is in Ireland! Sean's Bar has been researched thoroughly by the Guinness Book of Records and proudly holds the record for "The Oldest Pub in Ireland" with an official dating of 900AD. Research is ongoing into the title of "The Oldest Pub in the World"; so far, nothing older has been found.
In Ireland, many place names can trace their origins to Gaelic, Celtic and English names. Including a river in Galway called Sruffaunoughterluggatoora and Muckanaghederdauhaulia holds the longest name for a town in Ireland, Co. Galway. Wow.
Love duty-free shopping when you travel? Amazingly tax-free stores started at Ireland's Shannon Airport in 1947. Source NPR
It takes 119.5 seconds to pour a perfect Guinness.
"Why is the sky blue?" A simple question, but did you know that it was an Irish scientist, John Tyndal. The discovery was made in the 1860s of why the sky is blue in the day but red at sunset. Source RIGB
Irish people consume on average 131.1 litres of beer per year! The 2nd highest per-capita consumption after the Czech Republic.
Ireland is the only country in the world to have a musical instrument as the national symbol. You can visit some of the oldest harps in the world at Trinity College in Dublin.
The three most famous Celtic symbols of Ireland are the green Shamrock, the harp, and the Celtic cross.
Did you know? Germany once tried to use the shamrock in the early 1980s. However, it has been trademarked by the Government of Ireland.

In the early 1980s, Ireland defended its right to use the shamrock as its national symbol in a German trademark case, including high-level representation from Taoiseach Charles Haughey.

Having lost initially, Ireland won on appeal to the German Supreme Court in 1985. Now the symbol appears in many, many, many shapes and forms. Including Aer Lingus, Irish postal stamps and its air traffic control call sign is "SHAMROCK".

Nothing less than 3 million pints of Guinness are brewed every day at the St James' Gate Brewery in Dublin. At least that was the numbers pre-covid.
The Cliffs of Moher have featured in famous movies including Harry Potter and the Half-Blood Prince, the Mackintosh Man and the Princess Bride.

Because Ireland is so isolated from the European mainland, it lacks several common species in Europe, such as moles, weasels, polecats or roe deer.

At the height of 688 metres above the Atlantic Ocean, Croaghaun (on Achill Island) are the second-highest cliffs in Europe. The highest is in Cape Enniberg in the Faroe Islands.
The Céide Fields in County Mayo are the most extensive Stone Age site in the world. It contains the oldest known field systems in the world (6,000 years old) and Europe's most massive stone enclosure (77 km).
Over 70-80 million people worldwide claim Irish ancestry. However, it is hard to estimate the exact numbers. The leading cause for such a number is the massive emigrations due to famine and the search for better opportunities abroad, especially in America in the 1800s.
Irish is a Gaelic language belonging to the Celtic side of the Indo-European language tree and not much like English. It's still the first spoken language in Galway, Kerry, Cork, and Donegal, smaller areas of Waterford, Mayo, and Meath.

Did you know? In Irish, there is no word for YES or NO. However, you can say Tá sin ceart – That`s right.

Did you know? Ireland had a female president in 1990! In the 1990 elections, Mary Robinson was elected the republic's first woman president. The election of a candidate who was not only a woman but also had socialist and feminist leanings was a huge paradigm shift in Irish politics.
Ireland is one of the best countries in the world for gender equality. We have had two female presidents.
The song "When Irish Eyes are Smiling," was written by two Americans, George Graff and Chauncey Olcott, in 1912. But no records state that they ever visited Ireland.
The patron saint of Nigeria is St Patrick! Irish bishops in Nigeria named St. Patrick, who is said to have died on March 17 in the year 461, as the country's patron in 1961, the same year Ireland opened its embassy in Lagos.
Hook Lighthouse is thought to be the oldest working lighthouses in Europe or possibly in the world. Located at Hook Head, in County Wexford, the present structure was completed either in 1172 or 1245, although the first lighthouse on that spot dates back to the 5th century.
Did you know that there are no wild snakes in Ireland? The sea has stopped many animals common in mainland Europe from reaching the island. However, many believe that St Patrick banished all snakes from Ireland.
The country has had a high birthrate for the last 50 years, and because of that, Ireland has one of the youngest populations in the world. Approximately 50% of the population is less than 28 years of age.
During the 1840s, Ireland's staple crop – the potato – failed, leading to the Great Famine. An estimated million people died of starvation and disease between 1846 and 1851, and two million emigrated between 1845 and 1855.
Ireland has one of the most educated workforces in the world.
The share of 30-34-year-olds in Ireland with a third level
qualification is 53.5%, compared to an EU average of 40%

Surprisingly Ireland, the home of Guinness, does not sell the most Guinness in the world! Britain is; first, Nigeria is second, and Ireland is third!

Only about 9% of people in Ireland have natural red hair, contrary to popular belief.

The submarine was invented in Ireland by John Philip Holland.

The novel Dracula was written by an Irish man! Abraham "Bram" Stoker was an Irish author, best known today for his 1897 Gothic horror novel Dracula. Born in Clontarf, Dublin.
According to the Belfast List, 2,225 people boarded the Titanic. Of those, 1,317 were passengers and 908 people were members of the crew. Only 713 people survived.
It took approx. 3,000 men nearly three years to build the Titanic. Three million rivets held its massive hull together. The cost of a first-class ticket is estimated to equate to at least €89,000 in today's currency.
Irish invented Halloween! Over the centuries, the ancient Celtic festival of Samhain, a harvest festival that celebrated the end of the summer, and All Saint's Day merged to become Halloween later as we know it.

Ireland was one of the first 12 European Union nations that began using the euro currency in 2002.

The Cliffs of Moher in Ireland were believed to be formed over 320 million years ago! Born before the island of Ireland itself, during a time called the Upper Carboniferous.

The White House was designed by Irishman James Hoban, who won a competition in 1792, which lead him to create the building.

Over 40 million Americans are of Irish descent, which is seven times more than Ireland's population.
New York City hosted the first St. Paddy's Day parade when a contingent of Irish soldiers, homesick for their native coast, marched through the city in 1762.
The 2008 American Community Survey reported more than 414,943 people of Irish ancestry living in NYC.
Got an uncle Patrick on Staten Island? One in 161 Americans is named Patrick — nearly 2 million times the population of Dublin.
Irish has three major dialects – Spoken Irish today has three major dialects: Ulster, Connacht, and Munster. Each dialect differs slightly in vocabulary, grammar and pronunciation.
January 6 is known in the Irish language as "Nollaig na mBan" – Women's Christmas. If you are ever in Ireland on this day be sure to head out for a few drinks it is a crazy fun night.
In the late 18th century, Cork was the largest exporter of butter in the world. This was mostly to Britain and the British Empire.
The Royal Cork Yacht Club was founded in 1720 and is the world's oldest yacht club.
Cork Harbour claims to be the second-largest natural harbour in the world by navigational area, after Sydney's Port Jackson.
The Union Jack was flown for the very first time in Dublin on 1st January 1801 to herald the Union of Great Britain and Ireland.
One of the most well-known Irish facts is that Dublin is home to the world-famous Guinness Brewery. In 1759, Arthur Guinness signed a 9,000-year lease for the land.
Irish Castles are scattered across the island in vast amounts, and numbers point to a total of around 25'000 castles and ruin. Some of the castles are open for tourists to stay in.
Ireland has one of the highest church attendances in Europe, and about 80% of the total population are nominally Roman Catholics.

The guillotine was used in Ireland before it was used in France. The earliest use dates back to 1307.


Ireland is the only country in the world where our windmills turn in a clockwise direction. This is true and untrue after fact-checking. It is totally dependant on the windmill's motor, but typically more are programmed to turn clockwise more than other countries in the world. This could be where this fact came from. What do you think? Comment below.
The Late Late Show is an Irish chat show. It is the world's second-longest-running late-night talk show, after the American The Tonight Show.
Montgomery Street in Dublin was once the largest red-light district in all of Europe.
New York City's Central Park gets all the hype about being a huge city park, but Phoenix Park in Dublin is actually twice the size of Central Park.
Sports betting is legal in Ireland and according to bestonlinecasinoireland.com Irish citizens can use online gambling platforms that are either domestically certified
According to the most recent census, there are now more Polish people in Ireland than native speakers of the original Irish language Gaelic.
Ireland was the last country in the European Union without a postcode system.
In 1853 Dundalk man named John Coffee built the Dundalk Jail. However, he encountered some financial troubles while building the prison. He ended up going bankrupts and becoming the first inmate in his own prison.
The largest town in Ireland is Drogheda, with 40,956 (up 6.2% since April 2011).

More Irish people are cycling! In April 2016, 56,837 people cycled to work, an increase of 43% since 2011.

Until 1985, you needed a prescription to buy condoms in Ireland.
A motorway in Ireland was delayed by ten years and then rerouted to protect a tree that was thought to belong to fairies.
The ball that drops in Times Square on New Year's Eve is made by Waterford Crystal.
Did you know? In terms of area, the largest county in Ireland is county Cork at 7,457 km². The next largest is county Galway, at 6,148 km².
In the 18th century, Cork was the largest exporter of butter in the world.
In Co. Cork, Ireland, there is one pub for about every 500 people. Source IT
Puck Fair is one of Ireland's oldest fairs. It takes place annually for three days on the 10th, 11th and 12th of August in Killorglin, County Kerry. A goat is crowned king for three days and hoisted on a 40-foot pedestal.
Speaking of goats, people from Co. Wicklow has the nickname 'goat suckers'. The term was coined because of the goats that frequented the Wicklow mountains.
The oldest hotel in Ireland is in Co. Wicklow. The Woodenbridge Hotel opened in 1608. Source: Woodbridge
There is a village in Limerick, Ireland, called Hospital. It does not have a hospital.

The Irish report the lowest annual number of UFO sightings in Europe.

May is generally the driest month of the year in Ireland.
Google, Microsoft, Facebook, PayPal, Twitter, Intel, Apple and many more large corporate US companies all have their European Headquarters in Ireland.
Ireland are the second biggest tea drinkers in the world! Source: QZ
In 2004 Ireland was the first country in the world to introduce a countrywide ban on smoking in the workplace and pubs/restaurants.
The Royal Cork Yacht Club was founded in 1720 and is the world's oldest yacht club. There is also
The longest river in Ireland is the River Shannon.
It rains A LOT in Ireland but back in 2007; it rained for 49 consecutive days! Met Éireann statistics have confirmed 49 consecutive days of rainfall from June 11th to July 29th. June – July are Ireland's summer months! Source IT
The largest Irish Lottery jackpot won was worth €18,963,441 and was won by a syndicate of 16 players who all worked at a concrete plant in County Carlow.
Ireland is responsible for many inventions such as Colour photography, Whiskey Distilling, Ejector Seat, Guided Missile, Guinness, Hypodermic Syringe, Modern Tractor, Tank, TransAtlantic Calls, Flavoured Crisps, Portable defibrillator, Rubber-soled shoes.

Did you know? In 1844, Irishman Francis Rynd invented the hollow needle for syringes. An excellent Irish fact.

Did you know? In 1928, Irishman Cedric Gibbons designed the Oscar statuette.
Founded in 1745, the Rotunda Hospital in Dublin is the world's oldest continuously operating maternity hospital.
Blarney is celebrated the world over for a stone on the parapet that is said to endow whoever kisses it with the eternal gift of eloquence – the 'Gift of the Gab.'
Irish Wolfhounds are the tallest dog breed in the world.
The official World's Shortest St. Patrick's Day Parade route is only 98 feet long. It is in Hot Springs, Arkansas.
Until the 1970s, Irish law prohibited pubs opening on March 17 as a mark of respect for this religious day.
Same-sex marriage has been legal in Ireland since 2015.
There were 20,389 opposite-sex marriages in 2018. There were 664 same-sex marriages in 2018, of which 372 were male unions and 292
were female unions.
During the Great Famine, or the Irish Potato Famine, over 1 million Irish died, and nearly 2 million emigrated, dropping the population by about 25%.
Abortion has been legal in Ireland since 2018.
Buenos Aires is home to the largest St Patrick's Day celebration in South America.

Every year 300+ stadiums, statues, museums and towers go green to celebrate our St Patrick's day – see last years here.

A comprehensive study carried out last year by Bayer found that 56% of Irish people wear glasses, while a further 8% chose to wear contact lenses, meaning that almost two-thirds of the population has an eye condition that requires corrective lenses.

The Wild Atlantic Way is the longest coastal drive route in the world.
In which county in Ireland would you find the Blue Stack Mountains? Donegal
The Book of Kells was written in what language? Latin
Which Irish cyclist won the 1987 Tour De France? Stephen Roche
Who won 2020 All Ireland Hurling Final? Limerick
RTÉ's Fair City first hit Irish television screens in what year? 1989
In "Brooklyn", Saoirse Ronan's character leaves which county behind to embark on her voyage to America? Wexford
To which county can Barack Obama trace his Irish roots? Offaly
The opening 20 minutes of which epic war movie was filmed on Curracloe Beach in Wexford? Saving Private Ryan.
While the ship officially left for America from Southampton in England, its last port of call was in Cobh, County Cork.
Argentina's Navy was founded by an Irishman. – Irish facts
Admiral William Brown was the creator and first admiral of the Argentine Navy. He is today hailed as a hero in Argentina for his attempts to protect the country from the Spanish invaders successfully.
The oldest yacht club is in Co. Cork, Ireland. The Royal Cork Yacht Club, founded in 1720, is widely recognised as the world's oldest yacht club.
It is believed that the game of hurling, which is believed to be the world's fastest game played on grass, was created in Ireland over 3,000 years ago!
St. Patrick's name wasn't actually 'Patrick'. It was, in fact, it was Maewyn Succat.
Did you know? Irish playwright George Bernard Shaw is the only person ever to win both a Nobel Prize and an Oscar. Oscar for best-written screenplay Nobel Prize for literature and He also had a rotating office that he could turn to face the sun in the winter and give himself more shade in the summer. Source: Wiki

Irish Sign Language is unique in that men and women use different signs due to being educated in separate schools historically. Source: Wiki

Turning 100 In Ireland? What a fitting point for my last Irish fact. On your 100th birthday, you receive a letter and €2,540 from the President as part of the Centenarian Bounty. On each subsequent birthday, you receive a letter and a commemorative coin—source: President.
Sources: Fairy fact about Irish motorway, Irish inventions, condoms in Ireland, CSO, Irish Times, BBC, Eurovision, Independent, Late late show, NPR
Okay! That is a lot of facts about Ireland
I hope you enjoyed this list of Irish facts. I have linked to sources where this information was found above.
Once again, be sure to join my weekly dose of Irish email newsletter, where I share all things like this straight to your inbox!
If any are incorrect, be sure to let me know in the comments and please share this article where you can.
Which of these are your fav Irish facts?
Don't forget you can get your weekly dose of Irish straight to your inbox every Friday right here.
And if you enjoyed this post, why not read some St Patrick's day facts next.
Thanks for reading these Irish facts be sure to share!
Stephen